JET-KLEEN(TM) Safer Than Compressed Air for Personal Cleanup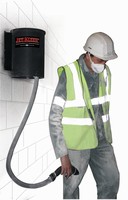 CHICAGO, IL September 5, 2008 - "The Jet-Kleen(TM) Personal Safety Blow-Off Gun is gaining increased acceptance as a safe and effective alternative to compressed air for dust and debris removal". That's according to Michael Green, president of The A.W.T. World Trade Group, manufacturer of the Jet-Kleen Personal Safety Blow-Off Gun. "The Jet-Kleen system has several advantages over compressed air," Green said. "and with air pressure of less than 3 psi, it eliminates the risk of skin damage associated with the much higher pressure of compressed air and doesn't introduce any moisture into the system."

Lightweight, portable, and much quieter than compressed air, the Jet-Kleen system is easy to use and excels where employee safety is concerned. "Until recently, using compressed air or simply brushing off have been acceptable methods for removing debris from personnel," Green said, "however, these methods fall short in facilities where worker safety and plant cleanliness are increasingly important. In many countries outside the U.S., using compressed air for employee cleanup is now illegal."

Jim Parlin, services supervisor at Century Aluminum Corp. in Ravenswood, W.Va. echoes Green and said safety was a key consideration in his company turning to the Jet-Kleen system for worker cleanup. "Our employees were using compressed air to dust off their clothing," Parlin said. "and Jet-Kleen is just what we needed to curtail high-pressure dust-off which we know can be very dangerous at times."

Formerly known as the Jet-Black, the Jet-Kleen system is now distributed exclusively for A.W.T. by specializedsafetyproducts.com, a supplier of various safety related products such as protective gloves, aprons, and biodegradable solvents. The Jet-Kleen comes in wall-mount and floor models, with a portable unit that is light enough to be transported into tight spots. The Jet-Kleen's sound-absorbing foam on all internal surfaces keeps noise levels low, (78 db or less) and the basic unit comes with eight feet of flexible hose, a 16-foot power cable, and an easy-to-hold nozzle. Options include foot pedal operation, motor speed controller, and static neutralization pack.

For more information on the Jet-Kleen system, contact The A.W.T. World Trade Group: 4321 N. Knox Ave., Chicago, IL at: 773.777.7100, E mail sales@awt-gpi.com, or go to www.specializedsafetyproducts.com for a direct link to product information on Jet-Kleen.

A.W.T. World Trade (www.awt-gpi.com) is part of The A.W.T. World Trade Group. Formed in 2002 with the acquisition of the American M&M Screen Printing Equipment division, The A.W.T. World Trade Group's in-house team of professionals combines more than a century of experience in design and engineering. As a result, the organization is emerging as one of the nation's fastest-growing manufacturer of screen-printing equipment, parts and supplies. Other divisions of The A.W.T. World

Trade Group include Graphic Parts International Inc., an industry leader providing replacement spares and remanufacturing (www.gpiparts.com); and American M&M, manufacturer of such well-known and respected screen printing equipment as the Cameo, Hercules, Centurian and Daytona presses (www.screenprintmachinery.com).

In addition to a worldwide network of distributors and dealers, The A.W.T. World Trade Group has its corporate headquarters and manufacturing facility in Chicago, a sales office in Oshkosh, Wisconsin, and both sales and distribution centers in Miami, serving Central and South America, and in Almere, Holland, serving Europe.

More from Sensors, Monitors & Transducers