Cleaning Compounds and Chemicals
Jet-Kleen(TM) Blow-off Gun Enables Safe Cleanup of Personnel and Equipment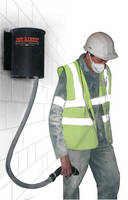 CHICAGO, Ill. - Safety managers in industries from manufacturing to construction are increasingly recognizing the advantages of the Jet-Kleen(TM) Personal Safety Blow-Off System as a safe and effective alternative to compressed air for a variety of cleaning applications, including; dust, debris and moisture removal from both workers and equipment.

Jim Parlin, services supervisor at Century Aluminum Corp. in Ravenswood, W.Va., said safety was a key consideration when his company turned to the Jet-Kleen system for worker cleanup. "Our employees were using compressed air to dust off their clothing," Parlin said. "Jet-Kleen was just what we needed to curtail the high-pressure dust-off that we know can be very dangerous at times."

Parlin and others have noted that although most workers are well aware of the dangers of compressed air, they have continued to use it because it is readily available in most manufacturing environments. Strategically placed Jet-Kleen units can help end that dangerous practice.

Lightweight, portable, much quieter and with lower energy costs than compressed air, the Jet-Kleen system is easy to use and excels where employee safety is concerned. Since it is a blower-driven system, the Jet-Kleen avoids the risk of introducing oil, moisture or other contaminants that can result from using compressed air. And it eliminates the potential for serious injury that can result from improperly using compressed air.

By comparison, the Jet-Kleen, with air pressure of less than 3 psi (160 mBar) can be aimed directly at the skin without risking injury. The Jet-Kleen can also be used at dust-off stations, before entering clean rooms, or wherever workers need to clean-up before moving into other workspaces.

The Jet-Kleen system is distributed exclusively by Specialized Safety Products, a division of the A.W.T. World Trade Group. The Jet-Kleen is available as a wall-mounted unit and a portable floor model that is light enough to be transported into tight spots. The Jet-Kleen's sound-absorbing foam on all internal surfaces keeps noise levels low, (78 db or less) and the unit features an easy-to-hold nozzle at the end of a flexible hose. Options include foot pedal operation, motor speed controller, and filter assembly.

For more information on the Jet-Kleen system, contact Specialized Safety Products, 4321 N. Knox Ave., Chicago, IL, at: 773.777.7100, email sales@specializedsafetyproducts.com or visit www.specializedsafetyproducts.com for a direct link to more detailed product information.

A.W.T. World Trade Inc. (www.awt-gpi.com) and Specialized Safety Products (www.specializedsafetyproducts.com) are part of The A.W.T. World Trade Group. Formed in 2002 with the acquisition of the American M&M Screen Printing Equipment division, The A.W.T. World Trade Group's in-house team of professionals combines more than a century of experience in design and engineering. As a result, the organization is emerging as one of the nation's fastest-growing manufacturer of screen-printing equipment, parts and supplies. Other divisions of The A.W.T. World Trade Group include Graphic Parts International Inc., an industry leader providing replacement parts and remanufacturing (www.gpiparts.com); and American M&M, manufacturer of such well-known and respected screen printing equipment as the Cameo, Hercules, Centurian and Daytona presses (www.screenprintmachinery.com).

In addition to a worldwide network of distributors and dealers, The A.W.T. World Trade Group has its corporate headquarters and manufacturing facility in Chicago, a sales office in Oshkosh, Wisconsin, and both sales and distribution centers in Miami, serving Central and South America, and in Almere, Holland, serving Europe.

Related