Jerguson® 360 Series Safety Ballcheck Valves come with cleanout port.
Press Release Summary: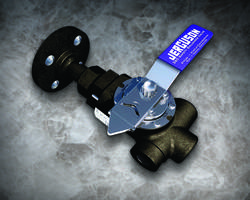 Jerguson® 360 Series Safety Ballcheck Valves are equipped with locking pin and lock-out tag-out slot. Units are API 641 and ISO 15848-1 certified and meet API Class V shutoff requirements. Products are integrated on armored glass gage and quarter-turn position visible handle.
---
Original Press Release:
Innovative Safety Ballcheck Valves for Liquid Level Gages Announced
Patented Design Eliminates Potential Operator Error During Commissioning
Clark-Reliance Corporation has announced a major improvement in isolation valves for liquid level gages. Jerguson® 360 Series Safety Ballcheck Valves greatly improve the safety and reliability of traditional-style safety ballcheck valves by eliminating the potential of false level indication during commissioning. It is a widespread problem with traditional style ballcheck valves for the valve handle to be opened too quickly during commissioning. If there is liquid already present in the vessel, this may cause the ballcheck to seat, and the gage to display a false level reading.
The new Jerguson® 360 Series is able to solve this through the use of an innovative core design which locates the ballcheck within the ball of a metal-seated ball valve. A unique quarter-turn position visible handle allows the operator to easily see the valve's mode of operation (Run, Closed, or Bypass). When commissioning a level gage assembly the operator simply turns the handle of the valve to the bypass position. In this scenario the ballcheck cannot seat because the ballcheck seating surface is upstream of the ball. Fluid will flow around the ball, through a retainer plate, and into the gage. When the fluid stops rising, the handles are turned to the run position. The Run Position is intended for when the gage is in normal operation. This positions the seating surface of the internal ballcheck towards the armored glass gage allowing the ballcheck to seat in the case of a catastrophic event. The handles can also be positioned to closed mode when it is necessary to isolate the gage from the vessel. This will prevent fluid from entering the gage or draining back to the vessel. A video demonstrating this unique benefit can be viewed at www.jerguson.com/company_products/360-series.
The Jerguson® 360 Series Valve also features a cleanout port opposite the vessel connection. This allows maintenance of the valve by flushing out the internals, even while mounted to the vessel. Each valve is equipped with a locking pin and lock-out tag-out slot to enhance plant safety. As a standard these valves are low emission certified to API 641 and ISO 15848-1. Valves meet API Class V shutoff requirements, and have wetted components that comply with NACE MR0103 and MR0175. Equipped on a Jerguson® armored glass gage, these valves eliminate common commissioning mistakes while enhancing plant safety.
The Clark-Reliance Corporation is a world leader in boiler level and process level indication and control. The company's well-known brands constitute the broadest line of level instrumentation: Jerguson® liquid level gages and valves, Jacoby-Tarbox® sight flow indicators, Reliance® boiler level controls, Magne-Sonics® level measurement and control products, Ernst Flow Industries and Clark Steam Specialties. Additionally, Clark-Reliance manufacturers Anderson® Separators, HYCOA transfer valves and duplex lube oil filtration systems, filters, National Filtration Systems® engineered fuel gas filtration / separation systems. Equipment from Clark's Oil Filtration Systems product line is used to clean and dry lube oil, transformer oil, and fuel oils as well as remove varnish from lube oil used for rotating equipment. Recently acquired, Enervac™ International ULC specializes in transformer oil and SF6 gas purification systems.
Clark-Reliance is celebrating over 133 years of boiler knowledge this year, as its roots go back to the Reliance Gauge Column Company founded in 1884.
More from Electronic Components & Devices