Jeannette Specialty Glass Explosion-Proof & Hazardous Glass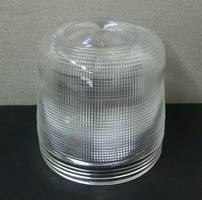 JEANNETTE, PA., March 2017… Jeannette Specialty Glass has the capabilities to manufacture glass products for the Harsh, Hazardous, and Explosion-Proof industry sector. Jeannette Specialty Glass' unique "Hard Roc" borosilicate glass products create a wide range of production options and capabilities for product advancement and ideal installation in the harsh and hazardous environment.
Benefits
Borosilicate Glass "HR-39" - Owned Formulation
Explosion-Proof & Shatter-Proof
Durability - Chemical, Scratch, Stain, and Thermal Shock Resistant
Max Glass Outside Surface Temperature (Heat Strengthened) - 200⁰C
Max Thermal Shock Differential (Heat Strengthened) - 175⁰C
Strain Point - 485⁰C
Index of Refraction - 1.487
MOHS Hardness Scale Rating - 7
Jeannette Specialty Glass has been producing glass lighting & enclosure parts for the oil and gas industry, one of the harshest environments in demanding superior quality and durability. JSG's borosilicate glass parts are meant to survive severe weather, continuous use under hot and cold elements with exposure to moisture, dirt & salt spray. This glass not only has to overcome these harsh forces of nature, but also withstand critical thermal-shock testing and be explosion-proof.
Hazardous & Explosion-Proof Glass Products
Enclosures
LED Lighting
Lighting
Refractors & Reflectors
Jeannette Specialty Glass' product categories are vast with options. The possibilities are unlimited to the type of hazardous and explosion-proof glass products we can produce and supply.
Press Contact:
Christina Jansure,
Jeannette Specialty Glass
215 North 4th Street,
Jeannette, PA 15644
Ph:724.523.5567
Fax:724.523.0123
contactemail: cjansure@jsgoceana.com