Janesville Plastics Manufacturer Prent Launches New Line of Protective Face Shields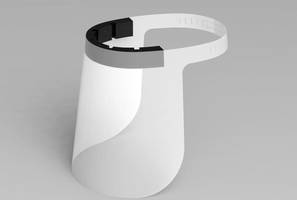 JANESVILLE
When it comes to local or national heroics, manufacturers of plastic packaging products don't immediately spring to mind.
After all, it's the humble plastic wrapper that we cut open, pull apart and throw away to get at the real stuff inside.
But now, in the grips of a global COVID-19 pandemic, what may be heroic is being redefined daily.
Last week, Janesville plastic packaging manufacturer Prent Corp. learned that Mercyhealth Hospital and Trauma Center in Janesville had a shortage of personal protective gear it needs to respond to the worsening coronavirus crisis. The shortfall includes plastic protective face shields—the see-through, wraparound barriers hospital staff are now wearing to guard themselves against disease as they treat patients.
Just a few hours after Prent officials learned of the shortage, Prent's product designers—engineers more used to designing plastic packaging for medical devices and supplies—drew up and produced a prototype protective face shield designed for doctors, medical workers and first responders.
Less than 12 hours later, the prototype was in the hands of doctors at Mercyhealth.
Next came 2,200 brand new face shields, donated by Prent to Mercyhealth. Then came 18,000 more shields, donated to Mercyhealth and other local health care providers and first responders.
Effective this week, Prent, a custom plastics thermoforming company, has a production line dedicated solely to manufacture of plastic face shields.
The company says it can make thousands of the shields a day and plans to do so until hospital supply chains can meet a demand for potentially millions of the devices.
Prent Vice President Joe Pregont II said he has never seen employees at Prent and its Janesville sister company, GOEX, pivot faster to design, manufacture and ship an all-new product.
Then again, the need likely has never been so urgent.
"I have not experienced anything this close to home, where it is impacting our direct community. Literally, it's people I know who are needing to use these face shields. One is a neighbor of mine, a firefighter," Pregont said. "Seeing that direct impact this close to home is something new. It makes us want to push harder to get things done fast."
Prent is a global producer of mainly medical packaging, and the company has seen firsthand the effects of the COVID-19 crisis. The pandemic first hit in China late last year.
The crisis in China left manufacturing plants within hundreds of miles of the initial outbreak temporarily shuttered for weeks under government orders. That included two of Prent's plants in China.
Now, the pandemic is global, and the indication is that it has mushroomed in some regions of the U.S. to an extent that exceeds some of the hardest-hit regions of China and Europe.
Prent has launched marketing of the new face shields and is gearing up to produce as many of the shields as are needed. Pregont said the shields, a one-piece design with a foam forehead pad, are simple in design. That means they can be produced rapidly to meet orders he said are already growing.
Pregont said Prent will give priority on orders to health care groups and first responders such as police, firefighters and medics.
For now, Prent plans to produce the shields solely at its Janesville plant. Pregont said the company also must meet a growing demand for medical device packaging, the company's main market.
GOEX, Prent's main supplier for the recycled PETG plastic Prent uses, can supply materials quickly and efficiently because the two companies' Janesville plants are located near each other.
If needed, Pregont said, Prent can convert some of its other thermoforming lines to produce face shields.
In a statement, Mercy- health CEO Javon Bea commended Prent for its "innovative solution" and "quick turnaround" of a product that will protect health care workers during the COVID-19 crisis.
"We are seeing the best of people during this national crisis and extend our deepest thanks," Bea said
More from Cleaning Products & Equipment