Miscellaneous Cleaning Equipment
Jail Honors Grads of Janitorial Work Program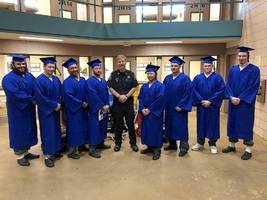 "This program taught us all teamwork and appreciation for others. It's given us a new sense of integrity and a motivation for success." 
Hamilton, OH – January 14, 2021 - Eight county jail inmates have just graduated from the DuPage County Jail's new Janitorial Work Program. 
Each has earned their Custodial Technician Certification from ISSA's Cleaning Management Institute, one of the most respected education and certification programs in the professional cleaning industry.  
In honor of their graduation, all eight inmates wore blue caps and gowns and ceremoniously tossed their caps into the air after the ceremony. 
DuPage County is located about thirty miles west of Chicago. The Janitorial Work Program is a six-week course instructing inmates on the proper use of janitorial tools, equipment, and cleaning solutions.   
Due to COVID-19, it also includes training in effective infection control strategies.   
Putting their newly learned skills to work, the course also includes regular cleaning of sections of the jail.  
Upon release, the eight inmates will be part of a program designed to help get them full-time jobs as custodial workers. 
"We're serious about rehabilitation here," says County Jail Sheriff James Mendrick. "Our goal is to give these inmates a life outside of jail. We want them to better themselves while they are here, [and] give them stability so they can take care of their families once they leave." 
Prominent in the program is training using Kaivac's No-Touch Cleaning® systems. Unlike other machines such as traditional floor machines that perform just one or two cleaning duties, inmates use the No-Touch Cleaning systems for a variety of cleaning tasks such as cleaning floors, walls, stairs, restrooms, and food service areas. 
Mendrick believes the Janitorial Work Program and the tools used is one reason there has not been one case of the coronavirus in the DuPage County jail.  
This is far different from what is happening around the country, where there have been more than 250,000 prisoners testing positive for the virus since December 2020. 
"This training program taught us all teamwork and appreciation for others," says inmate Charles Lawler, speaking for the class. "It's given us a new sense of integrity and a motivation for success." 
Connect With Kaivac 
About Kaivac, Inc.
Kaivac is the developer of the No-Touch Cleaning® and OmniFlex™ Crossover Cleaning systems.  Headquartered in Hamilton, Ohio, Kaivac, Inc. delivers complete science-based cleaning systems designed to produce healthy results and outcomes while raising the value of cleaning operations and the professionalism of the worker. Kaivac offers an integrated portfolio of environmentally friendly cleaning products designed to remove the maximum amount of soil and potentially harmful biopollutants in the most cost-effective manner possible.  
For more information, contact Kaivac Global Head Quarters at www.kaivac.com, email info@kaivac.com, or call 513-887-4600.
Company Contact Information: 
Tom Morrison, vice president of marketing 
Kaivac, Inc. 
2680 Van Hook Avenue 
Hamilton, OH 45015 
Phone: 513-868-4227 
Email: info@kaivac.com 
Media Contact:
Robert Kravitz 
Phone: 312-880-8132 
E-mail: robert@alturasolutions.com
More from Fluid & Gas Flow Equipment