ITT's EVC Series J1772 Connector Wins 2011 ECN Readers Choice Award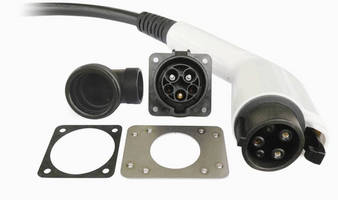 Advanced electric vehicle connector takes home ECN's Packaging, Enclosures, Clips & Interconnects award...

SANTA ANA, CA - ITT Interconnect Solutions, a leading global manufacturer and supplier of connectors, interconnects and cable assemblies, recently won an ECN 2011 Readers Choice Technology Award for its advanced EVC Series J1772 electric vehicle connector. Highlighting the electronics industry's most significant products of the year based on its readers' selection of the most innovative, significant, useful and popular devices, ITT's EVC Series J1772 electric vehicle connector won the Packaging, Enclosures, Clips & Interconnects category.

Based on HEP spring contact technology, the highly efficient EVC Series J1772 electric vehicle connector represents the industry's first UL-rated, J1772 Level II 75 amp four-hour or less full charging solution. Charging options include 75A/240V, 30A/240V, 15A/240V, and 15A/120V. Designed specifically for electric vehicle charging applications, the J1772 is capable of performing Level I and II charging from a low-end of 15A/120V to a high-end range of 75A/240V.

The inlet connector includes finger-tip protection on the power & ground pin contacts and also features an enhanced cable management system using ITT's VEAM CIR series backshells. By using a cable with a greater degree of flexibility, ease-of-use is assured on retractable design charging units. The UL-approved J1772 Level I and II robust electric vehicle charging coupler and inlet connectors are suitable for electric passenger vehicles, home charging units, public infrastructure charging units, roadside assistance trucks, electric fleet vehicles and electric motorcycles.

"ITT is honored to have the EVC Series J1772 electric vehicle connector named as a 2011 ECN Readers Choice Technology Award winner," said Ted Worroll, Global J1772 Product Manager at ITT Interconnect. "This award is even more meaningful knowing that the readers of ECN, our colleagues and customers, selected the EVC Series out of the thousands of innovative products and technologies announced during the past year."

Further details on the EVC Series J1772 electric vehicle connector are available in an Applications Note freely downloadable from: www.ittcannon.com

About ITT

ITT is a diversified leading manufacturer of highly engineered critical components and customized technology solutions for growing industrial end-markets in energy infrastructure, electronics, aerospace and transportation. Building on its heritage of innovation, ITT partners with its customers to deliver enduring solutions to the key industries that underpin our modern way of life. Founded in 1920, ITT is headquartered in White Plains, NY, with employees in more than fifteen countries and sales in more than 125 countries. The company generated pro forma 2010 revenues of approximately $2 billion. For more information, visit www.itt.com.

More from HVAC