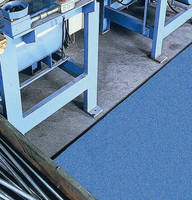 The Crown Mats and Matting Comfort King Antifatigue Mat is made with Zedlan, our patented cushioning system that provides more bounce and support than other antifatigue mats.



These mats help workers that must stand for long periods of time feel more comfortable, be more productive, and stay safe and healthy.



The Comfort King Antifatigue Mat is perfect in all types of environments, including schools, prompting one classroom teacher to call it "absolutely an awesome product…like a magic carpet in my classroom."



For more information, visit www.crown-mats.com or call toll free 1-800-628-5463.



More from Cleaning Products & Equipment