Isotech Introduces Gas Springs Made in Germany to Product Line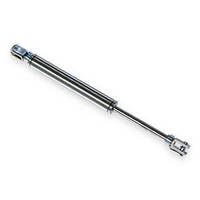 Hatfield Pa, -- Isotech Inc., a supplier of precision linear motion products, has recently expanded their portfolio with the integration of gas springs from a Germany-based manufacturer to their line of air powered motion control products.



The addition of gas springs to Isotech's air powered motion control products line comes from a leading manufacturer of high precision gas spring technology for use in numerous industrial markets including engineering, medical, and automation.  There is over 50 years of precision gas spring manufacturing experience and application engineering services behind the quality of these products.



"This partnership allows us to expand our product line with the highest quality standards synonymous with "Made in Germany," said Joe Casillo, president at Isotech, "and includes a range of products that are built to last and perform in tough environments." 



Isotech has extended its air powered motion control product line to include gas springs, double-stroke springs, release systems, oil dampers, and telescopic gas springs.  The gas springs are designed for a wide range of purposes and are made to withstand extreme environments as needed. "This gas springs product line is a great fit for Isotech because they have a solution to almost any gas spring application," said Casillo.



The addition of gas springs to Isotech's air powered motion control products extend the range of standard products to a full line of stainless steel options, locking types, and custom stroke lengths.  To learn more, visit http://www.isotechinc.com/gas-springs-group.com or call Isotech Inc., at 800-314-3332.



About Isotech Inc.

Isotech Inc., specializes in the supply of linear motion control products and proprietary mechanical and electromechanical products including ball and crossed roller slides and tables, linear bushings and shafting, pneumatic, micrometer and motorized tables, linear actuators, air cylinders, dashpots/actuators, noise control materials, vibration mounts and isolators, laser marking systems and automation software training.

More from Architectural & Civil Engineering Products