DC to DC Power Supplies (Converters)
Isolated Converter provides up to 20 A in compact package.
Press Release Summary: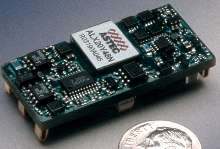 Sixteenth-brick, 50 W ALX series isolated converter is 1.65 x 0.8 x 0.33 in. and operates from 36-75 V input bus voltage. Units deliver 20 A of current from 1.8 and 1.2 V models, 18 A from 2.5 V model, and 15 A from 3.3 V units. Power density of 114 W per cu in. with efficiencies as high as 88% are produced from 1.8 V model. Features include over voltage, over current and over temperature protection along with under voltage lockout with hysteresis.
---
Original Press Release:

Astec Power Sets a New Standard with Industry's First Sixteenth-Brick Isolated DC/DC Converters


New 50-Watt ALX Series Provides up to 2O Amps in an Ultra Compact Package

CARLSBAD, Calif. - April 4, 2003 - Astec Power, a leading merchant supplier of power conversion solutions, has introduced the first industry standard sixteenth-brick isolated converter. At 1.65 inches (41.9mm) long by 0.8 inches (20.3mm) wide with a 0.33-inch (8.3mm) profile, the new 50-Watt ALX series preserves the same quarter-brick and eighth-brick pin location assignments but with reduced length (input to output pin separation) while maintaining the same functionality. More than a third smaller than a typical eighth-brick converter, the single-output ALX models pack 15 to 20 Amps of output current in a convenient surface-mount package. With its small mechanical outline and power levels competitive with eighth-brick devices, the ALX will establish a new benchmark for applications such as wired and wireless communications and datacom where board space and cost are at a premium.

The ALX series operates from a 36V to 75V input bus voltage and delivers up to 20A of current from the 1.8V and 1.2V models, 18A from the 2.5V and 15A from the 3.3V units. This raises the power density bar for an isolated converter to 114 Watts per cubic inch. At the same time, careful selection of key components coupled with unique board layout techniques control heat dissipation that give the ALX series efficiencies as high as 88 percent for the 1.8V model with minimal power derating at elevated ambient temperatures.

Equipped with industry standard features, the ALX series includes over voltage (OVP), over current (OCP) and over temperature protection. It also incorporates under voltage lockout with hysteresis as well as an output trim pin and an enable pin with positive or negative logic controls. The ALX models also provide basic insulation from input to output and boast a Mean Time Between Failures (MTBF) of more than one million hours.

Mechanically, the new devices have pin functions that are identical to standard eighth-brick converters with the dimension between input and output pins reduced by 25 percent. This assures maximum flexibility by allowing designers to layout boards that will accommodate standard quarter-brick and eighth-brick devices as well as the new ALX sixteenth-brick in the early stages of design when power requirements are still stabilizing. The shorter length and compact form-factor will also allow designers to maintain more uniform packing density on the circuit board.

ALX models are priced competitively from $40.75 in OEM quantities. Samples of the 1.8V models are available now. Models with 3.3V, 2.5V and 1.2V output are scheduled for release in the second quarter of 2003. For more information, contact an Astec power representative in your area. To locate a representative, go to the Astec Power Web site at astecpower.com, and click on the SALES OFFICES button.

About Astec Power

Astec Power is a leading international supplier of power conversion solutions. A wholly owned subsidiary of Emerson (NYSE: EMR), Astec Power is headquartered in Carlsbad, CA. Dedicated to advanced research and development, state of the art design, sophisticated automation and in-process testing, Astec Power produces standard, modified standard, and custom AC/DC and DC/DC power supplies, which range from one to 7,500 Watts.
In order to satisfy and continue to grow its international custom base, Astec Power has operations in three continents. Through this strategic allocation of its manufacturing resources, Astec Power delivers competitively priced quality products worldwide in a timely and reliable manner.

About Emerson

St. Louis-base Emerson www.gotoemerson.com is a global leader in bringing technology and engineering together to provide innovative solutions to customers in process control; electronics and telecommunications; industrial automation; heating; ventilation and air conditioning; appliance and tools. Emerson's fiscal 2002 sales were $ 13.8 billion.

More from Electronic Components & Devices