ISO Cover Boards protect roofing from storms and hail.
Press Release Summary: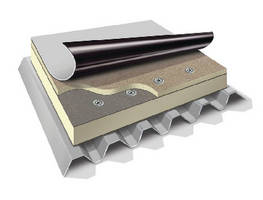 Available in 2 versions, EnergyGuard™ High-Density Polyisocyanurate Cover Boards can be used as protective layer over boardstock insulation or as recover over existing roofing system. HD version, weighing 11 lb per 4 x 8 ft board, is ½ in. thick with R-value of 2.5 and compressive strength over 80 psi. HD PLUS version weighs 13 lb with durable coated glass facer and compressive strength over 110 psi.
---
Original Press Release:

GAF Introduces EnergyGuard High-Density ISO Cover Boards



WAYNE, NJ – GAF, North America's largest roofing manufacturer, announces the production of high-density polyisocyanurate (ISO) cover boards, which can be used as a protective layer over boardstock insulation or as a recover over an existing roofing system. These cover boards offer superior roof protection from foot traffic, storms, and hail, while also offering the benefit of being easy to install due to their light weight.



GAF offers two versions: HD with over 80 psi, and HD PLUS with over 110 psi compressive strength and a durable coated glass facer. Each of these boards is an ideal choice for protecting your roof from the elements and rooftop traffic. GAF EnergyGuard™ HD is a ½" thick high-density ISO cover board with an R-value of 2.5, the highest of any cover board—and, at 11lbs.(HD) 13lbs.(HD PLUS) per 4' X 8' board, it's a fraction of the weight of gypsum cover boards.



Aside from its high R-value, which contributes additional energy savings to the roofing system and the building, GAF has the ability to ship three times more product on one truck than gypsum cover boards. Using fewer trucks means less carbon emissions, with the added benefit of taking less time to unload at the jobsite.



"Our new GAF High Density Cover Board is a key component for a more resilient roofing system from single ply to asphaltic," stated Justin Hardy, GAF product manager at GAF. "The ability to protect a roof from traffic and impact while adding R-value performance is a game changer."



To learn more about GAF, visit www.gaf.com.



About GAF

Founded in 1886, GAF has become the largest roofing manufacturer in North America. The company's products include a comprehensive portfolio of steep-slope and commercial roofing systems, which are supported by an extensive national network of factory-certified contractors. Its success is driven by its commitment to Advanced Quality, Industry Expertise, and Solutions Made Simple for contractors, specifiers, and property owners alike. In 2011, GAF was the first roofing manufacturer to offer a Lifetime limited warranty on all of its laminated shingles and, in 2012, it introduced the GAF Lifetime Roofing System.



With a focus on social responsibility, GAF has developed Advanced Protection® Shingle Technology, which provides superior durability and wind resistance while reducing the use of scarce natural resources. The company has also developed single-ply and asphaltic membranes with superior durability and high reflectivity to meet the most rigorous industry standards while helping commercial property owners and designers reduce energy consumption.



GAF also supports the roofing industry through CARE, the Center for the Advancement of Roofing Excellence, which has provided education to over 125,000 professionals. CARE's mission is to help professional contractors and distributors build their businesses through sales and management education, and to provide product and installation training to contractors, distributors, architects, property owners, and related industry personnel. For more information about GAF, visit www.gaf.com.



Alyssa Hall

Marketing Communications

1361 Alps Road.

Wayne, NJ 07470

(P) 973-628-3301

www.gaf.com

More from Architectural & Civil Engineering Products