IR Windows protect high-energy equipment inspectors.
Press Release Summary: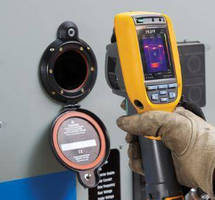 Installed within 5 min, ClirVu® CV Series eliminates need to open panel door to take IR camera readings on high-energy equipment. Products are Torture Tested™ to highest arc blast test ratings and, when properly installed, maintain panel arc test rating of up to 63 kA. Eliminating need to separately ground each metal component of window, AutoGround™ feature instantly grounds IR window to metal enclosure. Hinged cover is opened with quarter-turn latch or key and protects window from impact.
---
Original Press Release:

New Fluke ClirVu® CV Series IR Windows Offer Ultimate Protection for Inspectors of High-Energy Equipment



-- With an installation time of five minutes or less, there's no need to sacrifice safety or compliance to take infrared camera readings



EVERETT, Wash. -- More than 99 percent of all arc flash incidents occur when a panel door is open, exposing workers to potentially lethal amounts of energy. The new Fluke(R) ClirVu CV Series IR Windows( www.fluke.com/fluke/sgen/ir-windows/fluke-cv401.htm?PID=77071&utm_source=PressRelease&utm_medium=Email&utm_campaign=ClirVu%20CV%20Series%20IR%20Windows ) eliminate the need to open the panel door to take infrared camera readings, and with an installation time of five minutes or less, there's no excuse not to protect workers' safety.



The ClirVu CV Series offers the ultimate protection for the electricians, engineers, and inspectors who work around high-energy equipment. They are Torture Tested(TM) to the highest arc blast test ratings and, when properly installed, maintain a panel arc test rating of up to 63 kA.



Once installed, there's no need to power down or remove panels — inspections can be conducted quickly, easily, and, most importantly, safely, often with little, if any, personal protective equipment.



Installation takes one technician five minutes or less. Simply lockout-tag out, punch one hole with a standard conduit punch without removing the panel door, attach, and secure the cover. The AutoGround(TM) feature instantly grounds the IR window to the metal enclosure, eliminating the need to separately ground each metal component of the window.



The hinged cover is easily opened with a quarter-turn latch or key to perform infrared inspections. It also protects the window from accidental exterior impact.



Product Availability

The Fluke ClirVu CV Series IR Windows are available now. For more information, visit: http://sg.fluke.com/cvseries.



Fluke South East Asia

For information on Fluke tools and applications, or to find the location of your nearest distributor, please contact Fluke South East Asia Pte Ltd, 1 Clementi Loop #06-02/03/04 Singapore 129808, call +65-6799-5566, fax +65-6799-5577, e-mail info.asean@fluke.com or visit the Fluke website at www.fluke.com.sg



About Fluke

Founded in 1948, Fluke Corporation is the world leader in compact, professional electronic test tools. Fluke customers are technicians, engineers, electricians, and metrologists who install, troubleshoot and manage industrial, electrical and electronic equipment and calibration processes.



Fluke is a registered trademark of Fluke Corporation. The names of actual companies and products mentioned herein may be the trademarks of their respective owners. For more information, visit the Fluke website( http://www.fluke.com.sg ).



For more information:

Ryanne Toh (Ms.)

Senior Marcom Executive

+65-6799-5585

ryanne.toh@fluke.com

More from Mining, Oil Drilling, Refining Products & Equipment