IR Transceiver enables remote control via mobile phone.
Press Release Summary: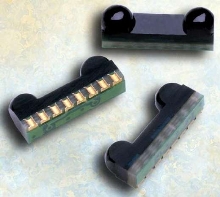 Supplied in 2.8 x 7.0 x 1.6 mm package, HSDL-3007 IrDA/remote control transceiver enables mobile phones and PDAs to function as universal IR remote controls for home appliances. Logic I/O interface operates at 1.8 V, and unit is compatible with remote control application software. Active over distances to ~23 ft, programmable unit has min transmission angle of 30°, self-teach/learn mode, and ability to store up to 8 profiles with up to 10 devices each.
---
Original Press Release:

Agilent Technologies Introduces Industry's Smallest, Lowest-Power Infrared Transceiver for Universal Remote Control via Mobile Phone


Transceiver's 1.6­mm Ultra-Low-Profile Package and 1.8-V Logic Input/Output Interface Enable Slimmer, Compact Mobile Devices

PALO ALTO, Calif., March 14, 2005 -- Agilent Technologies Inc. (NYSE: A) today introduced the industry's smallest, lowest-power infrared (IR) transceiver that enables mobile phones and personal digital assistants (PDAs) to function as universal IR remote controls for televisions, VCRs, DVDs and other home appliances. The new transceiver offers a remote control distance of up to 7 meters (approximately 23 feet) with an IrDA (Infrared Data Association) link distance of up to 50 cm (approximately 20 inches) and compatibility with Agilent's universal remote control software.

The Agilent HSDL-3007 is supplied in the industry's smallest package, measuring 1.6 mm high x 7.0 mm wide x 2.8 mm long. It also features the industry's lowest power operation, with a logic input/output interface operating at only 1.8 V. The transceiver can be used for IrDA and remote control applications without additional external components for multiplexing.

"Agilent was the first company to offer the combination of integrated IrDA/remote control IR transceivers with remote control application software," said Chee-Kien Lim, worldwide marketing manager for the Infrared Products Division in Agilent's Semiconductor Products Group. "The HSDL-3007 is our response to customer interest in an even smaller IR transceiver with a lower-voltage interface for next-generation mobile phones and PDAs."

The Agilent HSDL-3007 transceiver is compliant with IrDA Physical Layer version 1.4 low-power standards and operates at SIR (serial infrared) data rates from 9.6 kb/s to 115.2 kb/s. Its combination of very low idle current of less than 100 microamps and shutdown current of 10 microamps (both typical) helps extend battery life in mobile devices. In remote control operation, the transceiver features wide transmission angle (30 degrees minimum) and high radiant intensity (40 mW/sr typical) to make it easy to aim. The HSDL-3007 also provides LED stuck-high protection and is capable of operating with power sources ranging from 2.4 V to 3.6 V. All Agilent IR transceivers are IEC 825-Class 1 Eye Safety compliant.

The HSDL-3007 has a flexible programming mode to enable easy software programming. Agilent's complementary HSDL-S300 application software is a universal remote control program with a predefined remote control database and a self-teach/learn mode. The software incorporates profiles for TV, DVD, VCR, air conditioning, CD, audio, LD/VCD (laser disk/video compact disk) and other home appliances. Each profile can have up to 10 sets of device controls, thus 80 home appliance devices can be stored (eight profiles x ten devices). Each device can have up to 32 buttons/functions, which can be controlled via the mobile phone or PDA touch screen or keypad buttons.

U.S. Pricing and Availability

The Agilent HSDL-3007 IrDA/remote control transceiver is priced at less than $1.50 each in moderate volumes. It is available now through Agilent's direct sales channel and worldwide distribution partners.

Further information about Agilent's infrared products and applications software is available at www.agilent.com/view/ir.

Agilent's Mobile Appliance Solutions

Agilent is a leading supplier of semiconductor solutions for today's highly integrated, feature-rich mobile handsets. In addition to infrared transceivers for transmitting data, Agilent provides CMOS imaging solutions that enable camera phones, FBAR filters and E-pHEMT power amplifiers that help shrink handset size and save battery life, surface-mount LEDs that provide backlighting styling options, proximity sensors that allow the phones to automatically switch to speakerphone mode and ambient light photo sensors that save battery life by controlling backlighting. No other component vendor offers all of these solutions for mobile appliances. More information about Agilent's family of mobile appliance semiconductor solutions is available at www.agilent.com/view/mobile.

About Agilent Technologies

Agilent Technologies Inc. (NYSE: A) is a global technology leader in communications, electronics, life sciences and chemical analysis. The company's 28,000 employees serve customers in more than 110 countries. Agilent had net revenue of $7.2 billion in fiscal year 2004. Information about Agilent is available on the Web at www.agilent.com.