Pyrometers and Infrared Thermometers
IR Thermometers come in high-temperature, long range versions.
Press Release Summary: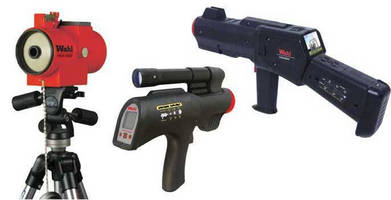 With respective measurement ranges of 1,472 to 2,912°F and 2,012 to 3,632°F, DHS1600R and DHS2000R have 2-color IR designs, 150:1 distance to spot ratio, and MAX temperature functionality. Along with RS485 interface and 4-20 mA analog signal output through 2 mini-USB ports, DHS1900 and DHS3000 feature 150:1 distance to spot ratio as well as Hi/Low alarms; Max, Min, Avg, and Delta-T calculations; and adjustable emissivity. Tripod-mounted HSA1500 offers 1500:1 distance to spot ratio.
---
Original Press Release:

Wahl Introduces New Portable High Temperature and Long Range Infrared Thermometers



Asheville, NC - Wahl Instruments, Inc. announces the addition of 7 new models to its wide range of industrial temperature measurement units - High Temperature and Long Range handheld infrared thermometers.

Four new High Temperature hand held infrared models are now available; the DHS1600R and DHS2000R are a two-color infrared designs. The DHS1600R measures temperatures between 1472° and 2912°F (800° and 1600°C), while the DHS2000R measures between 2012° to 3632°F (1100° to 2000°C) With a 150:1 distance to spot ratio, the Wahl DHS1600R & DHS2000R feature MAX temperature functionality and is not affected by smoke, steam, or particulates. The Wahl DHS1900 Extra High Temperature and DHS3000 Super High Temperature hand held infrared models have many applications in the Steel and Aluminum industries, as well as various other chemical and high temperature industrial processes where fast and accurate measurements are needed. These models feature RS485 interface and 4-20mA analog signal output through two mini-USB ports. With a 150:1 distance to spot ratio, these models include Hi & Low Alarms, Max, Min, Avg, and Delta-T calculations, as well as adjustable Emissivity for better accuracy.

Wahl's new Long Range Infrared line features the HSA1500 tripod-mount model with highest distance to spot ratio on the market, 1500:1. This super long distance range is perfect for electrical power generation and power transmission applications. Long range rifle and handheld styles are available in distance to spot ratios of 500:1 and 300:1. The 500:1 rifle style HSA500 scans for hot spots, and takes images containing temperature information and date-time stamps to an SD card. The HSA300 handheld infrared model features a telescopic sight for precise aiming to measure temperatures accurately up to 50 feet away.

New High Temperature and Long Range portable infrared thermometers are available through Wahl Instruments, Inc. and its International Distribution network.

For additional information please contact us at sales@palmerwahl.com or call 1-800-421-2853, fax 828-658-0728. Write to Palmer Wahl, 234 Old Weaverville Road, Asheville, NC 28804.

About Palmer Wahl

Palmer Instruments, started as America's first thermometer company in Cincinnati, OH in 1836. Since that time, Palmer has steadily evolved through product development geared exclusively towards industrial process measurement, test and calibration. Wahl Instruments, founded in Culver City, CA in 1953, manufactured precision temperature instruments for industry, and developed the first portable digital platinum-RTD contact thermometer system. Since then, Wahl has introduced many technical innovations in precision portable temperature instruments.

Together Palmer Wahl, with 175 years of continuous product innovation, offers the finest selection of Industrial Instrumentation products in the world, and is uniquely qualified to provide application/technical support, installation, calibration services and product selection from an extensive line of the finest instrumentation products. For more information, visit www.palmerwahl.com.

More from Communication Systems & Equipment