Ipsen USA Ships Ten Furnaces for a Solid First Quarter Performance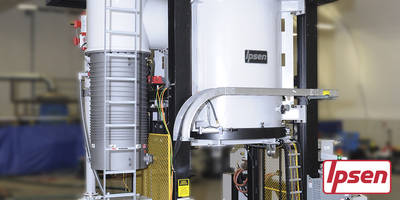 CHERRY VALLEY, IL – Ipsen recently shipped ten furnaces to companies in California, Georgia, Ohio, Washington and Wisconsin, and also to one location in Asia. This equipment will be used to process parts for companies in the Aerospace, Commercial Heat Treating and Medical industries.
The shipments included:
Two TITAN® furnaces – one TITAN H2 12-bar with a 18" x 24" x 18" (457 mm x 610 mm x 457 mm) work zone and one vertical TITAN 2-bar furnace. Both are equipped with PdMetrics® software for predictive maintenance.
Two MetalMaster® furnaces – one vertical 6-bar with a 96" D x 96" H (2,438 mm x 2,438 mm) work zone and 10,000 pound (4,500 kg) load capacity, and one horizontal 10-bar with a 96" x 84" x 96" (2,438 mm x 2,134 mm x 2,438 mm) work zone.
One VFS® horizontal internal quench 10-bar vacuum heat-treating and brazing furnace.
Several custom-built atmosphere furnaces that will process parts for the Aerospace industry.
Many of these customers also took advantage of purchasing Ispen's spare parts kits, installation, startup and training. Largely, these shipments signify Ipsen's capacity to provide a variety of heat-treating solutions that meet our customer's demands. Visit www.IpsenUSA.com/Products to learn more about the equipment options Ipsen offers, or contact your Ipsen representative to discuss your needs: www.IpsenUSA.com/Map.
More from Mechanical Power Transmission