Ipsen Provides Global Support to Multiple Industries,Shipping Seven Vacuum Furnaces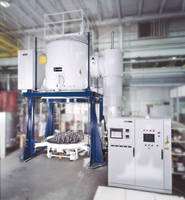 CHERRY VALLEY, IL - Ipsen recently shipped seven furnaces around the globe, which will be used to support the Aerospace, Automotive and Power industries. This selection of shipments included both custom-built furnaces and standard TITAN® furnaces that were sent to customers in Alabama, California, Missouri and Texas, as well as China and Japan.

The equipment shipped ranged from a vertical, bottom-loading MetalMaster® with an 84" x 84" (2,134 mm x 2,134 mm) molybdenum hot zone traveling to California to a TITAN® H2 vacuum furnace that was sent to Japan. Other furnaces shipped included horizontal MetalMaster furnaces, H2- and H4-sized furnaces from Ipsen's TITAN line and a Global Vertical furnace from Ipsen's TurboTreater® line. Overall, these shipments represent Ipsen's ability to provide sophisticated and intuitive heat-treating solutions through an all-inclusive product line that supports various applications and processes.

To best support such diverse industries and needs around the world, Ipsen's Global Support Team facilitates furnace installations, as well as provides expert training, startup assistance and 360° support throughout the entire lifespan of the equipment. Visit www.IpsenUSA.com/Products to learn more about the equipment options Ipsen offers. Contact your Ipsen representative today to discuss your needs at www.IpsenUSA.com/Map.

About Ipsen
Ipsen designs and manufactures industrial vacuum furnaces, atmosphere furnaces and supervisory control systems for a wide variety of industries, including Aerospace, Automotive, Commercial Heat Treating, Energy and Medical. With production locations in America, Europe and Asia, along with representation in 34 countries, Ipsen is committed to providing 360° support for customers worldwide. Choosing Ipsen means choosing a partner in success.
More from Thermal & Heating Equipment