IPS® Corporation Introduces New Products for a Range of Plumbing Applications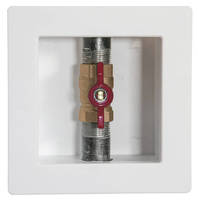 Collierville, Tenn. – IPS® Corporation Plumbing Division has introduced two new products for use in a range of plumbing applications – the Soft Guard Plus™ Disposal Cover for under sink protection and the Water-Tite Utility Box to recess virtually any plumbing connection.



The Soft Guard Plus™ Disposal Sink Cover is an ADA-compliant cover that protects wheelchair users from possible burns and abrasions. The anti-microbial, anti-fungal and UV-inhibited cover is designed to insulate the disposal under a kitchen sink, and meets both ADA and UPC standards.



Available in white, the Soft Guard Plus™ Disposal Sink Cover features durable fusion-welded seams and a pliable 1/8'' PVC shell finish to compliment fixtures. The design features access ports for drain hook-up and for reset and power buttons. The Soft Guard Plus™ Disposal Cover fits on Badger Models 1 and 5, and installs with easy hook and loop fastening.



IPS Corporation Plumbing Division has also launched the Water-Tite Utility Box to expand its full line of strong, versatile outlet boxes to recess virtually any plumbing connection. The Water-Tite Utility Box provides convenient access to main water supply shut-off, but can also be used as an angle stop, ice maker, washing machine, dishwasher, gas outlet box or in many other applications.



The new utility box is designed for easy and quick stud mounting with four integrated mounting ears and integrated stabilizer bar slots for center of the stud bay mount using a stabilizer bar. The box contains 16 knock-outs for ultimate versatility and is offered without valves for convenient configuration. Available faceplate options include a standard accessible faceplate or a solid faceplate for concealment.



"For more than 50 years, IPS has been introducing innovative products to meet shifting industry demands and regulations," Trey Brady, Product Manager, IPS Corporation Plumbing Division. "Our new disposal cover and utility box are the products plumbing professionals need to do a better job faster, no matter the application, while meeting international and national standards."



Information about Soft Guard Plus™ and Water-Tite products are available on IPS Corporation's website at http://www.ipscorp.com/plumbing.



About IPS Corporation

IPS® Corporation is the leading manufacturer of solvent cements, primers and sealants for all markets and applications – plumbing and roofing products – as well as structural and assembly adhesives. In the US and around the world, specifiers, contractors, pipe-fitter, plumbers and fabricators choose our professional grade products for their proven superior reliability, innovative features and performance, which save time and offer unmatched guarantee of first-time right and longer service life. More information is available at www.ipscorp.com.





More from Mechanical Power Transmission