IPADT IC combines common-mode filtering and ESD protection.
Press Release Summary: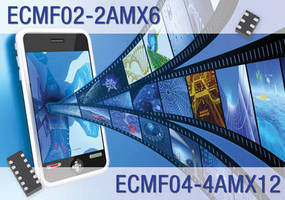 Model ECMF02 single-channel IC and ECMF04 two data-channel unit combine common-mode filtering, which prevents data errors caused by EMI, and ESD protection needed by high-speed data lines. Measuring 0.55 mm high, Integrated Passive and Active Device (IPADT) products feature 6 GHz differential bandwidth, and common-mode attenuation of -34 dB at 900 MHz and -20 dB between 800 MHz and 2.2 GHz. They are suited for smartphone, tablet, and mobile computer circuits, as well as for USB 2.0 and HDMI.
---
Original Press Release:

STMicroelectronics' IPADT Technology Shrinks and Simplifies Protection for High-Bandwidth Connections



Integration expertise and breakthrough design delivers industry's first single-chip IC combining essential common-mode filtering and ESD-protection data-line functions

Geneva - STMicroelectronics (NYSE: STM), a leading supplier of semiconductors for wireless products, has unveiled a new IC enabling manufacturers to reduce parts count and simplify the design of reliable, high-speed data circuits commonly used in smartphones, tablets and mobile computers, as well as for wired connections such as USB2.0 and HDMI. ST is the global leader in the Integrated Passive and Active Devices (IPADT) technology enabling these new devices.

The ECMF02 and ECMF04 are the industry's first silicon-based ICs to combine the common-mode filtering and ESD protection needed by high-speed data lines. Common-mode filtering prevents data errors caused by electromagnetic interference (EMI), and is usually implemented using a separate ceramic-type component. ST's new devices enable a cost-effective single-chip solution saving printed-circuit-board (PCB) space and simplifying design and assembly.

ST currently supplies more than 30% of all IPAD components worldwide and has patented a new filter topology to realize the Common-Mode Filter (CMF) in silicon. This represents a technical breakthrough that will save up to 50% of the PCB space typically needed to implement the CMF and ESD protection separately. The devices are also only 0.55mm high, which will help designers create ultra-slimline products.

Major features:

ECMF02 - single-channel device

ECMF04 - two data-channel device

6GHz differential bandwidth, complies with HDMI, MIPI D-PHY and USB2.0 High common-mode attenuation:

-34dB at 900MHz

-20dB between 800MHz and 2.2GHz

High ESD protection with low remaining voltage (Vpeak < 50V) Flow-through pin-out enabling efficient, simplified PCB layout

The devices are available immediately for quantities of 5000 pieces, priced at $0.18 for the ECMF02-2AMX6 (6-lead uQFN package) and $0.36 for the ECMF04-4AMX12 (12-lead uQFN). Alternative pricing options are available for larger quantities.

About STMicroelectronics

STMicroelectronics is a global leader serving customers across the spectrum of electronics applications with innovative semiconductor solutions. ST aims to be the undisputed leader in multimedia convergence and power applications leveraging its vast array of technologies, design expertise and combination of intellectual property portfolio, strategic partnerships and manufacturing strength. In 2010, the Company's net revenues were $10.35 billion. Further information on ST can be found at www.st.com.

IPAD is a trademark of STMicroelectronics. All other trademarks are the property of their respective owners.