IP67 Bulkhead Housing Sets New Connector Baseline.
Press Release Summary: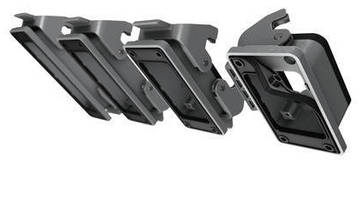 In locked state, Han® B IP67 bulkhead mounted housings provide IP66 and IP67 protection to allow temporary, full immersion in water. Flange protects gasket seal, preventing water from penetrating connector, while circumferential collar prevents seal from sliding inwards or outwards and thereby provides additional protection against water ingress. Available in 6B, 10B, 16B, and 24B sizes, housing uses Han-Easy Lock® locking system to maximize contact pressure.
---
Original Press Release:

HARTING's Han® IP67 Bulkhead Housing Sets New Connector Baseline



HARTING's new Han® B IP67 bulkhead mounted housings provide IP67 protection, allowing for temporary, full immersion in water.



Elgin, IL – HARTING's new Han® B IP67 bulkhead mounted housings offer a compelling alternative to IP65 rated connectors.



The Han® IP67 Housing, as the name implies, provides IP66 and IP67 protection, and does it for virtually the same price as a comparable IP65 rated connector. As a practical example of the difference, in the locked state, the Han® IP67 housing's protection allows for temporary, full immersion in water, as compared with the IP 65 rated housing which is only hose proof. The Han® IP67's special flange protects the gasket seal, preventing water from penetrating the connector. The circumferential collar also prevents the seal from sliding inwards or outwards; seal stability provides additional protection against water ingress. The Han® IP67 uses the proven Han-Easy Lock® locking system for high contact pressure.



The Han® B IP67 bulkhead housing is compatible with all standard Han® hoods and housings, and can be configured with any Han® insert or module, including the over 50 inserts in the Han-Modular® series. It comes in sizes 6B, 10B, 16B and 24B that fit the same standard cut-out dimensions for the existing Han® housing portfolio. The IP67 housing is ideal for applications in extreme conditions like wind turbines, construction cranes, railway and marine installations. However, HARTING also recommends it for many other applications. Since the cost difference between the Han® IP67 and comparable IP65 bulkhead housings is minimal or non-existent, there is no downside in having more protection than the situation calls for rather than too little.



About HARTING

The HARTING Technology Group, family owned and based in Germany, employs more than 4,000 people globally with subsidiaries and branch offices in 40 countries. With production facilities in Europe, Asia and the United States, the HARTING portfolio of connectivity solutions focuses on multiple levels, from the machine to the device and into the communication infrastructure. The U.S. facility in Elgin, Illinois is one of three HARTING locations that manufactures the HIS product line (HARTING Integrated Solutions - backplanes) and custom cable assemblies. The company's core business is intelligent and high-performance connection technology. HARTING works in almost all industrial markets with a focus on requirements for robust, reliable connectivity solutions.



Contact:

Christina Chatfield

HARTING, Inc of North America

Director of Marketing Communications

1370 Bowes Road

Elgin, IL 60123

USA

E-Mail: Christina.Chatfield@HARTING.com

HARTING-usa.com

Phone: +1 (877) 741-1500

More from Architectural & Civil Engineering Products