IP65 Brushless DC Motor is built for continuous duty.
Press Release Summary: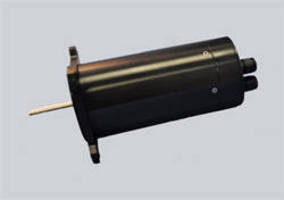 Built to operate under continuous load of 100 oz-in. at speeds of 6,000 rpm, IP65 washdown rated DIH27-63-BDNA offers peak torque capabilities of 450 oz-in. and incorporates corrosion-resistant, machined aluminum housing with black anodized coating. Cable strain relief, sealed bearing, and completely enclosed system guard against leaks while providing added protection for internal electrical connections. Rated for operation up to 155°C, motor has 2.7 in. OD and 6.0 in. axial length.
---
Original Press Release:

BEI Kimco Magnetics Solves Challenging Application Requirements with New High Force Density, IP65 Rated Motor



VISTA, Calif - BEI Kimco Magnetics, a company of Custom Sensors & Technologies (CST), Inc., recently met the challenging motor requirements for a meat cutting tool in a food processing application. Key to the product's design specification was an Ingress Protection (IP) rated IP65 washdown rated motor that could operate under a continuous load of 100 in-oz @ speeds of 6,000 rpm.

Using their proven experience in developing custom brushless motors for other industries, BEI Kimco designed the IP65 washdown rated DIH27-63-BDNA Brushless DC Motor with peak torque capabilities of 450 oz-in. The new motor incorporates a machined, aluminum housing with black anodized coating that offers excellent corrosion resistance. A robust cable strain relief, a sealed bearing and completely enclosed system guards against leak and provides added protection for the internal electrical connections. The motor measures 2.7" in O.D and just over 6.0" in axial length, and has an operating temperature range of 155º C.

"Typically BEI's markets have not needed IP65 protection," explains Walter Smith, Applications Engineer for Motors. "Our expansion into Ingress Protected designs will allow us to penetrate new niche markets and provide efficient cost effective solutions for a broader range of demanding industrial applications,".

The new IP65 rated motor meets the splash proof requirements of most applications with humid or moist environments and can be fully customized to match individual customer requirements for voltage, current, and operating speed.

BEI Kimco products have been used successfully in countless applications from high-end Industrial to Military and Aerospace to Medical applications. The ability to provide high performance solutions tailored to the specific needs of the customer has allowed BEI Kimco to fulfill many challenging requirements.

For further information contact BEI Kimco Magnetics, 1499 Poinsettia Ave., Suite 160, Vista, CA 92081, USA, Tel: (760) 597-7042; Toll-free: (800) 572-7560; Fax: (760) 597-6320; email: sales@beikimco.com; www.beikimco.com

About BEI Kimco Magnetics:
BEI Kimco Magnetics is an operation of Custom Sensors & Technologies (CST). BEI Kimco Magnetics was founded in 1974 and specializes in rotary and linear motion control products. The company's precision motion control products include high-speed performance Brushless DC motors, Cylindrical and Flat Voice Coil Actuators, and Linear Motors. These products are used across a wide range of applications including medical and scientific, factory and office automation, optics, semiconductor/electronics, military, aviation, space systems, and security. Kimco merges leading-edge capabilities and cost-effective manufacturing know-how with highly customized applications expertise. www.beikimco.com

About Custom Sensors & Technologies:
Custom Sensors & Technologies (CST) is a specialist in sensing, control and motion products. Through its brands, BEI Kimco, BEI Sensors, BEI PSSC, Crouzet, Crydom, Kavlico, Newall and Systron Donner, CST offers customizable, reliable and efficient components for mission-critical systems in Aerospace & Defense, Transportation, Energy & Infrastructures, Commercial & Industrial OEMs, Medical, Food and Beverage and Building Management markets. Focused on premium value offers and committed to excellence, CST, with more than 4,300 employees worldwide and sales of $571M US in 2010, is the dependable and adaptable partner for the most demanding customers. www.cstsensors.com

More from Optics & Photonics