IP Video Cameras support H.264 compression.
Press Release Summary: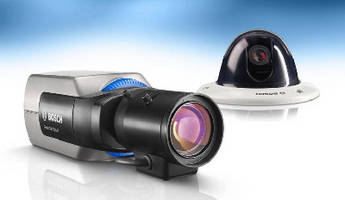 Fully compliant with Open Network Video Interface Forum standard, H.264 Dinion 2X and FlexiDome 2X IP Cameras feature 20-bit image processing technology, Smart BLC, and optimal night-time performance for video surveillance applications. Both progressive scan cameras generate 2 independent, full-frame-rate video streams with full resolution of 25 IPS at 4 CIF. Outdoor dome model includes IP66 vandal-proof housing with in-ceiling flush mount and surface mount options.
---
Original Press Release:

New Bosch H.264 Dinion and Flexidome IP Cameras Offer Best Quality H.264 Video



2X IP series set the benchmark for image performance


Progressive scan for sharp images without motion blur

H.264 Main Profile implementation combines highest quality video with low delay and low storage space requirements.

Designed for Bosch Intelligent Video Analysis with built-in hardware accelerator

Fully ONVIF compliant.

Bosch Security System has extended its 2X flagship product family with the new H.264 Dinion and Flexidome IP camera series. With these additions, Bosch can boast one of the most exhaustive portfolios of H.264 based IP cameras in standard box and ruggedized outdoor dome camera versions.

Since the introduction of Bosch's 2X video processing technology in 2009, Dinion 2X and Flexidome 2X cameras have become the hallmark for top image quality during day or night. The analog Dinion 2X and Flexidome 2X cameras were the first cameras in the industry to use 20-bit image processing technology. This fact, plus advanced features such as Smart BLC, Wide Dynamic Range and superior night-time performance have already made them one of the preferred choices for video surveillance under challenging light conditions.

In addition, the cameras' H.264 compression reduces network load by up to 30% compared with conventional compression technologies such as MPEG-4. Moreover, Bosch's low-latency main profile H.264 implementation offers all the compression benefits for live video, without sacrificing image quality. All H.264 IP cameras are capable of generating two independent, full-frame-rate, full-resolution (25IPS@4CIF) video streams per camera. This enables two video streams to be recorded simultaneously on different media, offering maximum flexibility and redundancy - for example, centrally on iSCSI drives managed by the Bosch VRM (Video Recording Manager).

To meet the increasing market demand for better images with less demand on network and storage resources, combined with "intelligence at the edge", the product series include "designed for IVA" versions in which IVA 4.0 runs on a dedicated FPGA (Field Programmable Gate Array) hardware accelerator to process the entire video in real-time.

Moreover, the IP cameras are fully compliant with the Open Network Video Interface Forum (ONVIF) standard, giving customers complete freedom to choose either Bosch video management software or any ONVIF compliant third-party video management software.

The cameras also have esthetically pleasing styling and a rugged mechanical construction, the latter enabling them to operate over a larger temperature range than previous models. The dome cameras also come with an IP 66 ruggedized vandal-proof housing with various mounting options such as true in-ceiling flush mount, or surface mount to suite any on-site mounting requirement.

The new H.264 Dinion 2X and FlexiDome 2X IP cameras are well suited for any applications in difficult lighting conditions and day/night surveillance, or where the most detailed images are required. Examples include outdoor perimeters, traffic monitoring, tunnels, car parks, casinos and gaming centers.

Contact person for press inquiries:

Bosch Security Systems

Erika Görge

Phone +49 89 6290-1647

Fax +49 89 6290-281647

P.O. Box 1111

D-85626 Grasbrunn

Germany

E-mail: erika.goerge@de.bosch.com

www.boschsecurity.com

The Bosch Group is a leading global supplier of technology and services. In the areas of automotive and industrial technology, consumer goods, and building technology, some 275,000 associates generated sales of 38.2 billion euros in fiscal 2009. The Bosch Group comprises Robert Bosch GmbH and its more than 300 subsidiaries and regional companies in over 60 countries. If its sales and service partners are included, then Bosch is repre¬sented in roughly 150 countries. This worldwide development, manufacturing, and sales network is the foundation for growth. Each year, Bosch spends more than 3.5 billion euros for research and development, and applies for some 3,800 patents worldwide. With all its products and services, Bosch enhances the quality of life by providing solutions which are both innovative and beneficial.

The company was set up in Stuttgart in 1886 by Robert Bosch (1861-1942) as "Workshop for Precision Mechanics and Electrical Engineering." The special ownership structure of Robert Bosch GmbH guarantees the entrepreneurial freedom of the Bosch Group, making it possible for the company to plan over the long term and to undertake significant up-front investments in the safeguarding of its future. Ninety-two percent of the share capital of Robert Bosch GmbH is held by Robert Bosch Stiftung GmbH, a charitable foundation. The majority of voting rights are held by Robert Bosch Industrietreuhand KG, an industrial trust. The entrepreneurial ownership functions are carried out by the trust. The remaining shares are held by the Bosch family and by Robert Bosch GmbH.
Additional information can be accessed at www.bosch.com.

More from Agricultural & Farming Products