IP Announces 100% Recycled Paper for North American Customers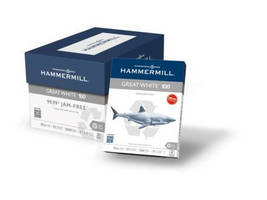 Great White® 100 is newest product in the Hammermill® Recycled Paper Portfolio

MEMPHIS, Tenn., -- International Paper is pleased to announce the launch of a 100% recycled paper offering, Hammermill Great White 100 to North American customers. The paper is the newest product to join the Hammermill Great White line of recycled products.

"Consumers are interested in recycled paper products, but they also want confidence in the quality and how the product performs. Hammermill Great White 100 is the best of both worlds and offers a dependable 99.99% Jam-Free Guarantee paper that has a 92 brightness. It's a great paper that runs smoothly, looks sharp, and contains 100% post consumer fiber," said Jon Ernst, International Paper vice president for Imaging Papers.

This product is produced at IP's world-class Riverdale, Ala. Mill and comes after a multi-million dollar investment into their recycled product capabilities. The Hammermill Great White 100 joins IP's 30% and 50% recycled paper offerings already available and carries the Forest Stewardship Council(®) certification.

The product launch coincides with the celebration of the Hammermill brand's 100th anniversary. "Hammermill is one of oldest brands in the industry because of its ability to continually evolve to meet customer needs and this product is our latest example of meeting consumers where they are in the marketplace," added Ernst.

International Paper (NYSE: IP) is a global paper and packaging company with manufacturing operations in North America, Europe, Latin America, Russia, Asia and North Africa. Its businesses include uncoated papers and industrial and consumer packaging, complemented by xpedx, the company's North American distribution company. Headquartered in Memphis, Tenn., the company employs approximately 70,000 people following the acquisition of Temple-Inland Inc. and is strategically located in more than 24 countries serving customers worldwide. International Paper net sales for 2011 were $26 billion. Temple-Inland Inc., which was acquired in February 2012, had 2011 net sales of $4 billion. For more information about International Paper, its products and stewardship efforts, visit internationalpaper.com.Hammermill and Great White are registered trademarks of International Paper.


More from Fluid & Gas Flow Equipment