IOS-Based 3U ESR VPX Module has 2 Gigabit Ethernet interfaces.
Press Release Summary: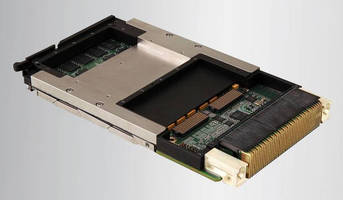 Delivering Cisco IOS™-based enterprise routing into one embedded slot, VPX3-621 Cisco Systems® 5921 Embedded Services Router (ESR) Software 3U VPX module supports Cisco IOS running as software router and is suited for SWaP-C constrained environments. Board can be used to connect embedded systems to IP-based WANs, enhance network security with firewall and intrusion detection capabilities, and add mobile IP networking capabilities to vehicles with multiple data links.
---
Original Press Release:

First Cisco IOS Embedded Services Router VPX Module Introduced by Curtiss-Wright



Intelligent Cisco IOS-based 3U VPX module with dual Gigabit Ethernet interfaces



ASHBURN, Va. — Curtiss-Wright Corporation (NYSE: CW) today announced that its Defense Solutions division has introduced a new Cisco Systems® 5921 Embedded Services Router (ESR) Software 3U VPX module that delivers the power and versatility of Cisco IOS™-based enterprise routing into a single embedded slot. The market's first VPX module to support Cisco IOS running as a software router, the rugged VPX3-621 Cisco Embedded Services Router module is designed for use in deployed aerospace and defense environments.  With support for the Cisco IOS Enterprise Services routing feature set, the board speeds and eases the integration of Cisco IOS network routing into rugged VPX-based embedded systems. Ideal for use in Size, Weight, Power and Cost (SWaP-C) constrained environments, the board can be used to connect embedded systems to IP-based wide-area networks (WAN), enhance network security with firewall and intrusion detection capabilities, and add mobile IP networking capabilities to vehicles with multiple data links. Because it runs Cisco IOS as a software application, the VPX3-621 eases software updates to incorporate new features, encryption standards, and threat detection profiles.



Powered by a Gen 3 Intel® Core™ i7 processor, the VPX3-621 is able to deliver voice, video and data services while providing the security, filtering, and encryption of a VPN gateway. It can also serve as an on-platform firewall to segment classified and sensitive data using the same Cisco technology that is widely deployed in other secure environments. The board's single-slot approach for adding Cisco routing into a VPX system helps eliminate stove-piped communications by delivering heterogeneous data types (voice, video, data) over a single data link.



"Our new VPX3-621 board is a small form factor Cisco routing appliance ideal for connecting embedded systems to external networks through a trusted and secure gateway," said Lynn Bamford, Senior Vice President and General Manager, Defense Solutions division. "This fully featured router enables system designers to quickly and easily add the industry-leading and widely deployed Cisco IOS interface into embedded VPX systems. It provides system designers, for the first time, with a VPX card solution for connecting to a backbone network or adding a firewall to their system."



The VPX3-621 can connect to multiple modules or radios to provide LAN and WAN connectivity.

It enables a wide range of traditional branch router functions including WAN routing, VPN endpoint services, firewall with intrusion prevention system (IPS), and call manager for telephony and unified communications. It also provides advanced routing features for mobile platforms. When used to support radio-aware routing and Mobile Ad-hoc Networking (MANET), the VPX3-621 enables mobile platforms to create dynamic standards-based IP networks for net-centric operations.



VPX3-621 Application Examples:



• WAN Gateway: The VPX3-621 provides secure access to IP-based wide-area networks ranging from battlefield information nets to ship-to-shore links and public telecom networks.



• Firewall: It can also provide a way to partition systems to ensure that sensitive data and devices are properly segregated.



Based on the proven and widely-deployed technology of the VPX3-1257 SBC, the VPX3-621 expands Curtiss-Wright's broad family of rugged module and line replaceable unit (LRU) Cisco ESR solutions. Along with the recently introduced XMC-120, an Intel Atom-based XMC mezzanine module that supports Cisco IOS, the VPX3-621 complements the full line of Curtiss-Wright switching and SBC products, providing secure network services to mission computers and processing systems.



Sales inquiries: Please forward all Sales and reader service inquiries to ds@curtisswright.com.



For more information about Curtiss-Wright's Defense Solutions division, please visit http://www.cwcdefense.com.



About Curtiss-Wright Corporation

Curtiss-Wright Corporation (NYSE:CW) is a global innovative company that delivers highly engineered, critical function products and services to the commercial, industrial, defense and energy markets.  Building on the heritage of Glenn Curtiss and the Wright brothers, Curtiss-Wright has a long tradition of providing reliable solutions through trusted customer relationships. The company employs approximately 9,000 people worldwide.  For more information, visit http://www.curtisswright.com.



Note: All trademarks are property of their respective owners.



Curtiss-Wright

T: 925.640.6402

jwranovics@curtisswright.com

Related