Ion Source Package facilitates sputter cleaning.
Press Release Summary: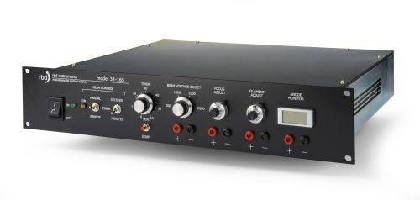 Developed for scientists and engineers in analytical labs, universities, research institutions, and government agencies, IG2 Ion Source Package comprises Model 04-165 ion source and Model 32-165 ion source controller. Ion source generates ions with acceleration energies up to 2 keV, and kinetic energy of ions erodes topmost atomic layers of materials in vacuum. Displaying anode current, digital panel meter on front of controller helps set and maintain reproducible ion currents.
---
Original Press Release:

Sputter Cleaning Just Got Easier



BEND, Ore.,  -- RBD Instruments Inc., a leading provider of ion sputter cleaning tools to serve the Academic and R&D communities announced an easier way to sputter with a new and improved version of their popular sputter cleaning ion source package, the IG2.



If you are not familiar with ion sputter cleaning, Mindy Corley of RBD Instruments describes it this way: "Imagine a cannon that shoots basketballs onto a field of baseballs, with the basketballs being the ions. The basketballs impact the baseballs and the baseballs go flying off the field. Ion sputtering is the same principle."



RBD's IG2 is a favorite at universities and government research facilities such as Sandia National Labs and NIST because, among other reasons, the IG2 may be the lowest priced sputter cleaning ion source package on the world-wide market today. "Why pay much more than you need to in order to simply sputter clean your sample in a vacuum chamber?" asks Mindy.



A digital panel meter on the front of the IG2 controller now displays the anode current, which makes it easier than ever to set and maintain reproducible ion currents.



Developed for scientists and engineers in analytical labs, universities, research institutions, and government agencies, the IG2 sputter ion source package comprises an ion source (Model 04-165) and a 2 keV ion source controller (Model 32-165). The ion source generates ions with acceleration energies of up to 2 keV. The kinetic energy of the ions erodes the topmost atomic layers of materials in vacuum. Ion sputter cleaning is an essential tool for research and development of new materials.



Another application for the IG2 is the sputter cleaning of STM tips. A scanning tunneling microscope (STM) is an instrument for imaging surfaces at the atomic level. To obtain high quality STM images and spectra, the STM tip needs to be cleaned periodically. RBD's IG2 is an affordable way to clean STM tips in vacuum.



See RBD Instruments sputter ion cleaning solutions at the American Vacuum Society's 62(nd) International Symposium and Exhibition meeting at the San Jose Convention Center in San Jose, California from October 18 thru October 23, 2015 in booth # 433.



About RBD Instruments

RBD Instruments, Inc., (http://www.rbdinstruments.com/) provides innovative products and services for the surface science and materials science markets. Their solutions encompass the areas of sputter cleaning, water vapor desorption, current measurement products, and surface analysis system parts and repair services.



For further information, please contact:

Mindy Corley, RBD Instruments Inc., 2437 NE Twin Knolls Drive, Bend, Oregon, USA  Tel: 541-330-0723, Fax: 541-330-0991, Email