DC to AC Power Supplies (Inverters)
Inverter Systems protect loads from voltage disturbances.
Press Release Summary: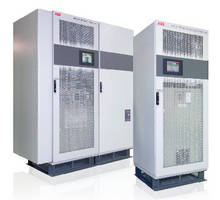 Designed to protect sensitive industrial and commercial loads, PCS100 AVC Active Voltage Conditioner provides voltage sag correction, continuous voltage regulation, and load voltage compensation. PCS100 UPS-I, suited for semiconductor and data center applications, uses energy storage to allow system to remain operational through short outages and very deep sags. Battery-free units are 98%+ efficient and can be sized to protect 3-phase loads from 150 KVA to 24 MVA.
---
Original Press Release:

New ABB Devices Protect Industrial and Commercial Loads from Unplanned Downtime, Saving up to Several Million Dollars Per Event



Voltage sags can account for up to 70% of all production downtime, resulting in expensive equipment damage and product loss. Problem more severe as modern facilities install more sophisticated equipment.



NEW BERLIN, Wisc. – ABB's Power Conversion business has released the PCS100 UPS-I and PCS100 AVC power protection devices to the North American market. The AVC and UPS-I are inverter based systems that protect sensitive industrial loads from voltage sags and other voltage disturbances with fast, accurate regulation and load voltage compensation.



The AVC is effective in a wide range of manufacturing and industrial settings, and the UPS-I is specially designed for semiconductor fabrication and data center applications. The North American introduction of the products follows a successful launch in Europe and Asia.



Voltage sags and other voltage disturbances are common in industrial electricity supplies, accounting for up to 70% of all unscheduled production downtime, and resulting in expensive damage to equipment and product loss. The problem has increased in recent years as modern industrial facilities have installed more complex equipment such as PLCs, control relays, variable speed drives and robots that are more sensitive to voltage sags and resulting outages.



The main causes of voltage disturbances are usually natural, including lightening, wind, tree branches and animal interference; secondary causes include faults and switching events in the grid, construction errors and component failure. Sags often cause equipment to self-protect by switching off, which in a critical control operation can cause a slowdown, or a complete shutdown of a facility.



Voltage sag events, also known as a voltage dips or brownouts, are a reduction in the incoming voltage for a short period of time, typically less than 0.25 seconds. They are characterized by amplitudes below 90% of the nominal range. While not complete voltage interruptions, they are the most common industrial power quality problem, and are often deep enough to cause equipment control circuits to drop out and reset.



The consequences of sags for industrial operations include unexpected downtime, lost revenue wasted materials, poor product quality, equipment damage, and in the worst scenarios, injury to personnel. The aggregate cost of unreliable electricity to the US economy are approximately $160 billion annually, with the average premium grid manufacturing facility experiencing six to twenty significant voltage sags per year.



The cost of a single voltage sag ranges from several thousand to several million dollars or higher. In one high profile example, a voltage sag at a major Japanese electronics manufacturer caused a production disruption of a popular computer chip, resulting in a 20% drop in shipments for the following two months, curtailing the availability of many consumer electronic devices.



"While power providers do well to ensure they deliver superior reliability, particularly to their premium grid customers, there is very little they can do to completely prevent issues such as voltage sags," said Sumit Chatterjea, segment manager, ABB's Power Protection. "To ensure ultimate protection from voltage disturbances, organizations are wise to install protection systems in order to maintain their critical loads. The cost pales in comparison to the savings they will quickly realize."



The following industries with critical continuous processes that are especially vulnerable to the damages caused by voltage sags:

Semiconductor

Data Centers

Plastics

Automotive/Aerospace

Pharmaceutical

Food Processing/Packaging

Cable/Fiber Optics

Textiles

Chemical, Oil and Gas



The ABB AVC and UPS-I are battery-free power protection solutions focused on significantly reducing unplanned process downtime by ensuring that industrial loads continue to receive a clean, uninterrupted flow of power during major grid disturbances. Unlike traditional alternatives, they are 98%+ efficient, virtually maintenance free, easy to install, have an extremely small footprint and can be sized to protect 3 phase loads from 150KVA to 24MVA.



--The AVC (Active Voltage Conditioner) protects sensitive industrial and commercial loads by providing voltage sag correction, continuous voltage regulation, and load voltage compensation. It is optimally designed to provide the required equipment immunity from the level of voltage sags expected on the AC supply network.

-- The UPS-I is an off-line, short-time rated storage solution for semiconductor and data center applications. It uses energy storage (ultra capacitors, batteries, etc.) to allow the system (downstream load) to remain operational through short outages and very deep sags. The system operates with improved transient performance due to the revolutionary inverter commutated utility disconnect. This allows the UPS-I to more rapidly interrupt the connection to the utility and take over the load while minimizing the disturbance to the connected load.



The PCS100 UPS-I may be partnered with a PCS100 AVC. This combination of voltage regulation and ride through storage protection provides a complete level of power disturbance protection. Separately or together, the devices commonly provide a complete payback in less than one year, and in some instances, four to six months.



For more information on ABB Power Protection products please view this video or visit www.abb.com/powerquality.



About ABB

ABB (www.abb.com) is a leader in power and automation technologies that enable utility and industry customers to improve performance while lowering environmental impact. The ABB Group of companies operates in around 100 countries and employs about 145,000 people.



About ABB Power Conversion

ABB's Power Conversion business applies power electronics technology for converting power in an efficient way with diverse applications from protecting critical loads at the facility level, to providing reliable electricity back to power grids of any kind.



For more information please contact:



Media Relations

Alex Miller

262- 236-3710

alex.x.miller@us.abb.com



ABB - Power Conversion

Heather Flanagan

262-395-1773

heather.flanagan@us.abb.com

More from Printing & Duplicating Equipment