Inverter provides multi-process welding power source.
Press Release Summary: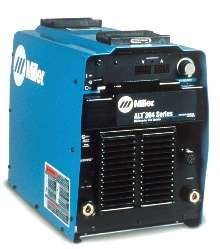 ALT(TM) 304 CC/CV inverter, with Auto-Line(TM) input power management, eliminates need for power linking mechanisms and allows unit to plug into 208 V through 575 V primary power without adjustments. Unit is suitable for Lift-Arc(TM) DC TIG, all Stick electrodes, MIG and flux-cored welding. It can also carbon arc gouge with 3/16 in. dia carbons. Using solid wire and 75/25 argon/CO2 shielding gas, operators can weld down to 15 V without arc outages, excess spatter, or burn-through.
---
Original Press Release:
Miller's New ALT(TM) 304 Inverter Maintains Steadiest Arc, Offers Best
o World's first CC/CV power source featuring Auto-Line(TM) technology o Fabricators, contractors, manufacturers benefit from flexibility oSuperior low-end voltage control improves MIG results on sheet metal, stainless APPLETON, Wis., Sept. 3, 2002-Miller Electric Mfg. Co. has introduced the ALT(TM) 304 CC/CV inverter, the world's first multiple process welding power source featuring Miller's exclusive Auto-Line(TM) input power management technology. Auto-Line technology (or "ALT" - rhymes with "salt") eliminates the need for power linking mechanisms and allows the ALT 304 to plug into 208 V through 575 V primary power without any adjustments. Auto-Line even allows operation from straight DC power, such as from the third rail of a subway system. "Because of its input power flexibility, the ALT 304 is a power source for worldwide use in many industries. Further, the ALT 304 maintains a rock-steady welding output even if line transients cause the primary power to vary widely," said Ken Stanzel, business unit manager, Miller Electric. "The operator will never experience a fluctuation in the welding arc so long as the primary power remains within a 185 to 635 V range. That covers a 'lowline' 208 V primary all the way through a 'highline' 575 V primary." Stanzel explains that fabricators, contractors and manufacturers often fight weld quality and maintenance problems that result from primary voltage fluctuations, or "dirty" power. Causes of dirty power can be large motors starting on the same primary power line, utility brownouts or spikes, and generators that do not regulate auxiliary power voltage, which can happen when they drop from run speed to idle speed during operation. Unbeatable Arcs in All Processes The ALT 304 weighs 78 lb. and has a CC/CV welding output of 5 to 400 amps and 10 to 35 V (60 percent duty cycle at 300 amps/32 V). The ALT 304 offers unbeatable performance for Lift-Arc(TM) DC TIG, all Stick electrodes, MIG and flux cored welding. It also can carbon arc gouge with 3/16-in. diameter carbons. "Anyone looking for a world-class, inverter-grade arc for multiprocess welding should consider the ALT 304," said Stanzel. "Those familiar with Miller's XMT® 304 CC/CV inverter -which has set the standard for arc quality in its class since 1996-will appreciate the ALT 304. It features a design similar to the XMT, but with performance and reliability improved through Auto-Line technology and more advanced control over the welding output." Compared to the XMT, the ALT 304 offers enhanced short circuit transfer MIG welding performance. Using solid wire and 75/25 argon/CO2 shielding gas, operators can weld down to approximately 15 V without experiencing arc outages, excess spatter or burn-through. Better low-end GMAW performance improves results on thin-gauge metal or in stainless steel applications where controlling heat input and weld puddle wet-out are important. To satisfy welding engineers, operators and maintenance personnel, the ALT 304 offers many of the same features and benefits as the XMT 304. This includes a single selector switch to simply process selection, adjustable dig and inductance control, Wind Tunnel Technology(TM) and Fan-On-Demand(TM) for superior reliability and quiet operation, dual digital meters to display volts and amps, optional gas solenoid for TIG welding and optional 115 VAC auxiliary power to run water coolers or grinders. How ALT Works The ALT 304 is actually a multiple-stage inverter system specifically designed to better manage primary power. In welding power sources without Auto-Line, the primary power must be linked, either manually or automatically, to the correct set of jumpers. Instead of a linking mechanism, the ALT 304 uses a small inverter to convert primary power to a buss voltage. The ALT 304 then uses the buss voltage to drive the control part of the inverter mechanism. "A 'multiple-stage inverter' may seem complicated, but it is the most robust method of managing primary power. As a result, we anticipate that Miller inverters with Auto-Line technology will quickly become the new standard for rugged reliability," states Stanzel. He also notes that Auto-Line technology can improve weld quality because it offers a step up in performance from line-voltage compensation. The latter maintains weld output power to within ± 1O percent of nominal, where Auto-Line maintains the output precisely. The ALT 304 is covered by Miller's True-Blue® three-year factory warranty. To download an ALT 304 spec sheet, visit Miller's website at MillerWelds.com. For more information or the Miller distributor nearest you, call 800-4-A-MILLER (800-426-4553), e-mail info@millerwelds.com, fax 877-327-8132, visit the website or write to Miller Electric Mfg. Co., P.O. Box 100, Lithonia, GA 30058. With headquarters in Appleton, Wis., Miller Electric Mfg. Co. is a leading worldwide manufacturer of arc welding equipment and related systems for metalworking, construction, maintenance and other applications. Miller is a wholly owned subsidiary of Illinois Tool Works Inc. (NYSE:ITW), Glenview, Ill. ITW is a diversified multinational manufacturer of highly engineered components, equipment and systems.
More from Electrical Equipment & Systems