Inverter powers arc-welding systems.
Press Release Summary: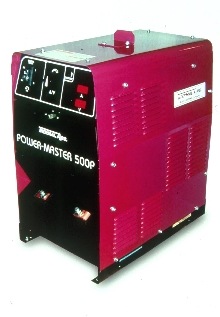 Power-Master(R) 500P, with 560 A dc output, is suitable for most welding applications. 24 factory-preset pulse programs facilitate matching size and type of wire to pulse welding applications. Programs are available for mild steel, stainless steel, aluminum, nickel alloys, and silicon bronze. Inverter switches between weld processes, such as gas tungsten, shielded metal, gas metal, and pulsed gas metal arc welding. 90% efficient machine provides both 24 V and 115 V ac.
---
Original Press Release:

Thermal Arc Introduces New Power-Master 500P Inverter


St. Louis - February 12, 2002 - The new Power-Master(R) 500P from Thermal Arc(R) is a multi-process arc welding power source for all manufacturing environments.

Power-Master is an energy efficient 560-amp DC output power source that fits most welding applications. With 24 factory preset pulse programs in the Pulsed GMAW mode, matching the appropriate size and type of wire for pulse welding applications is easy. Whether it's mild steel, stainless steel, aluminum, nickel alloys or silicon bronze, a pulse program meets the application need. For tougher jobs, a GUS software option makes the Pulsed GMAW mode fully programmable using a personal computer. The operator is able to design or modify the ideal pulse waveform for the unique application and re-program the power source.

The Power-Master 500P can quickly and accurately switch between weld processes, including Gas Tungsten Arc Welding (GTAW), Shielded Metal Arc Welding (SMAW), Gas Metal Arc Welding (GMAW) and Pulsed Gas Metal Arc Welding (P-GMAW). Other programmable features include "any or all" mode lockout and the ability to set the output adjustment to a limited range. An Arc Force/Inductance control allows adjustment of the arc characteristics for SMAW and GMAW welding processes.

A 34 KHz IGBT-based inverter design allows Thermal Arc to pack considerable power into the small, lightweight package. High efficiency components minimize power consumption. The machine is 90% efficient (draws less than 40 Amps on 460V/3 Phase at maximum output).

The Power-Master 500P provides both 24 Volt and 115 Volt AC through a 14-pin and 19-pin receptacle to power wire feeder and other accessories. The power source also provides 115 Volt AC power through a duplex on the rear of the machine.

The Power-Master 500P heavy-duty inverter meets or exceeds all industry requirements, including NEMA, CSA, IEC 974-1 and IP23S water protection.

Thermal Arc is a division of Thermadyne Industries, a global welding and cutting products company, with headquarters in St. Louis, Mo. The company is comprised of long-standing market leading companies representing many of the most respected brand names in the welding and metal fabricating industry.

More from Sensors, Monitors & Transducers