Inventory Software manages tools and MRO inventory.
Press Release Summary: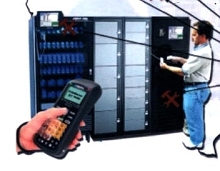 CM Data Warehouse module in CribMaster v6.0 software lets companies manage inventory across multiple facilities. It runs on Oracle and SQL Server platforms. Facilities can automatically identify excess inventory, initiate inter-site transfers, and run reports to identify discrepancies in purchase prices across all facilities. Pricing data can be used to establish national and international supply contracts with consistent pricing.
---
Original Press Release:
WinWare Introduces CM Data Warehouse To Offer Enterprise-Wide Tool Management

Marietta, GA -CribMaster now boasts a CM Data Warehouse option that allows companies to save millions by managing tool & MRO inventory across multiple facilities. With CribMaster, facilities can automatically identify excess inventory and initiate inter-site transfers instead of purchases, which reduces production expenses and establishes total control of tooling from an enterprise level.

With CM Data Warehouse organizations also gain the ability to understand their total cost of tooling and MRO supplies. "Some manufacturers may be paying $4.00 for a pair of safety glasses in San Diego and $12.00 a pair for the same glasses in Massachusetts and currently have no way to identify these differences," states WinWare President, Larry Harper. By using the CribMaster Common Item Number feature along with the CM Data Warehouse, users can run reports and easily identify discrepancies in purchase price across all of their facilities. By obtaining this information combined with enterprise usage figures, organizations can more effectively negotiate contracts with suppliers. Now the entire organization can establish national and even international supply contracts with consistent pricing.

The entire CribMaster product line including CribMaster software, point-of-use distribution devices (vending), partnered material handling storage devices (Remstar, Kardex, Hanel, Kardex UK), radio frequency bar-code scanners, and other management technologies all link together to create the most expandable system available. You can start with one toolcrib or vending machine and easily expand to the entire enterprise.

"Managing tooling is no longer a plant by plant management solution. Many facilities are seeing the benefits of managing tooling inventory and MRO items from an enterprise level," states Harper. "The cost benefits are truly amazing and the ability to view the big picture is invaluable." The CribMaster Data Warehouse module is an add-on to CribMaster Enterprise version 6.0 and is available in both Oracle and SQL Server platforms.

About the Company
WinWare Inc. was established in 1992 in Marietta, Ga., just outside Atlanta. Its knowledgeable and experienced staff is dedicated to creating enterprise-wide systems that manage tools and inventory in the manufacturing environment. WinWare has a long-term reputation for providing outstanding customer service and technical support for each of its customers, no matter how large or small. The company is committed to providing expert software and hardware solutions for today's manufacturing inventory problems. Visit WinWare's Web site at www.CribMaster.com.


More from Material Handling & Storage