INTRTORQUE® Screw and Bit Combination features tapered end.
Press Release Summary: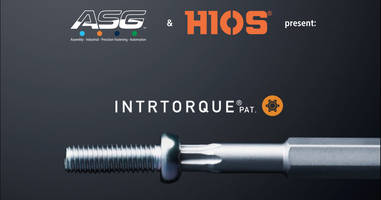 INTRTORQUE® Screw and Bit Combination features guide and lock function and has a tapered end. Unit's super point that glide into recess of the screw which eliminates wobbling upon engagement. INTRTORQUE reduces screw fastening errors and time needed for fastening by up to 40% and provides precise and accurate screw fastening.
---
Original Press Release:
ASG Introduces the HIOS® INTRTORQUE® Technology for an Exceptional Bit and Screw Engagement
ASG is excited to announce the introduction of INTRTORQUE® from HIOS® - A patented screw and bit combination. The newly designed Super Point provides superior engagement between the screw and bit, which ultimately translates to more consistent, repeatable and higher-quality assembly of your parts.
The specially designed screw and bit combo feature a guide and lock function. While hexalobular bits are traditionally flat, HIOS® INTRTORQUE® bit has a tapered end. This end, referred to as Super Point, glides into the recess of the screw and prevents any unnecessary movements or wobbling upon engagement. This also frees the hands of the operator, as he/she no longer has to hold the screw while fastening.
"Super Point, [the key feature of the HIOS Intrtorque® system], allows for precise and accurate screw fastening" says Bryon Shafer, General Manager of ASG. "The tapered end of the bit fits comfortably into the screw recess, creating an engagement that enables the operator to fasten with stability."
With reliable fitting and outstanding operability, the INTROTORQUE® solution assists with preventing screw fastening errors and can reduce the time needed for fastening by up to 40%. This technology increases the accuracy and repeatability of the torque by removing inefficiencies and unnecessary movement between the screw and the bit. INTROTORQUE® is compatible with hexalobular screws, allowing for a seamless and cost-effective transition. Visit www.asg-jergens.com/intrtorque.html to see application videos.
Since 1975, ASG, Division of Jergens, Inc. has been one of the exclusive North American master distributors of the HIOS® line of premium electric torque controlled screwdrivers. Over the last 40+ years, the ASG and HIOS® names have become synonymous with high-quality in the assembly industry. The HIOS line of electric torque control screwdrivers remains the core of the ASG Assembly Product Group.
About ASG
ASG is ISO 9001:2008 certified and has been offering products and solutions for the assembly industry for over 30 years. A complete line of torque control products and precision fastening equipment is offered through ASG Assembly, Industrial, and Precision Fastening product groups and includes electric and pneumatic torque control drivers, automated fastening systems, torque testers, work station accessories, precision screw presenters, automatic tape and label dispensers, the X-PAQ® System, and more.
For more information, visit www.asg-jergens.com
About HIOS
HIOS Inc. has specialized in the manufacture of screw tightening equipment since its establishment in 1970. HIOS continues to develop business today while considering global environment and improving overall work efficiency. HIOS aims to provide the highest quality while creating a comfortable working environment from the viewpoint of customers. They review the environment surrounding tightening operations from various aspects and try to improve it every day.