Introducing the New DV15 High Flow Directional Valves, Pre-Engineered Fan Drive HICs and EasyValve® in Chinese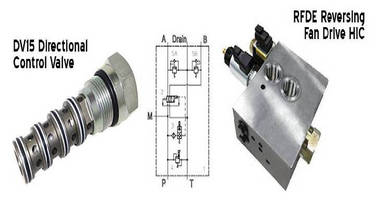 Comatrol Continues its Rhythm of Innovation - Introducing the New DV15 High Flow Directional Valves, Pre-Engineered Fan Drive HICs and EasyValve® in Chinese at BAUMA China 2012

Supporting the continued trend toward hydraulic fan drive systems, the new DV15 directional control valves were developed to drive more compact and efficient designs of the new RFDE reversing fan drive HICs.

Shanghai, China - Comatrol, a global leader in the design, manufacture and sale of engineered hydraulic cartridge valves and hydraulic integrated circuits (HICs), today announces the new DV15 high flow directional control valves and new RFDE fan drive HICs. These developments are a continuation of Comatrol's "Rhythm of Innovation," with its strong focus on high flow directional controls in 2012, and its continued investments in fan drive solutions for efficiently controlling the speed and reversing functions of hydraulic fan systems.

At BAUMA China 2012 in Shanghai, Comatrol is also rolling out a localized update to its flagship software EasyValve to now include the Chinese language. EasyValve offers users the flexibility of switching between English and Chinese. This powerful and popular circuit design software reaches new users every day, allowing hydraulic circuit designers to better communicate and document their ideas. The addition of Mandarin will provide further collaboration of circuit design in the China region.

DV15 High Flow Directional Piloted Valves

The DV15 is a 5-position piloted directional control valve with flow capacity of 70 LPM [18.4 GPM] at 7 bar pressure drop and capable of up to 80 LPM [21.2 GPM]. This new 5-port design is a 2-position, 4-way directional valve that is available in various schematics, and is shifted by applying a 2-bar [29 psi] pilot pressure to port 5.

"We designed the DV15 to help us create a more compact, efficient and cost-effective reversing fan drive solution. In the end, we have an exciting new product that quickly extends beyond fan drives and provides our customers with a new way to control the direction of flow on their vehicles with a very low pressure drop," said Enzo Soncini, Product Development Leader (Italy). "An additional benefit of the piloted design is that customers are not limited to piloting the DV15 using a solenoid valve, as they can also pilot with other valves, including sequence, relief and manual valves."

The DV15-P5-24 is an innovative solution in the market that customers can use in place of several 2-position, 4-way CETOP D03 or D05 valves, reducing space and increasing the circuit efficiency. In stark contrast to CETOP valves that do not have environmentally robust coils, the 5-way piloted directional control valves can be piloted using one of Comatrol's 08 size solenoid valves, allowing use of their Robust Coils which were designed to withstand extreme ambient temperatures when mounted in an engine compartment.

With a total length of 101 mm (4.0 in), the DV15 comes in a much smaller and lighter design than CETOP alternatives, which is essential for fan drive systems near engine compartments where space is limited. The valve's rated pressure of 230 bar (3335 psi) is a perfect match for these fan drive applications.

RFDE Reversing Fan Drive Solutions

In March 2011, Comatrol launched a portfolio of six pre-engineered Reversing Fan Drive HICs, four of which were designed using CETOP D03 or D05 valves for the reversing function. With the recent advancement of the DV15-P5-24 valve, the portfolio has been revamped to replace these four HICs with updated designs, providing the market with much slimmer, lighter, more efficient and cost-effective HICs.

"Our customers were seeking more efficient and compact designs than our existing 40 and 80 LPM HICs using CETOP valves," said Rocco Marella, Account Manager (EU). "They needed lower pressure drop through the HIC to improve the efficiency of the fan drive system and a much slimmer design to fit around the tight space constraints in the engine compartment. We worked closely with product development, leveraging Comatrol's computational fluid dynamic capabilities, to design and optimize a solution that met these stringent requirements."

The result of this development work includes a seventy-nine percent reduction in pressure drop of the 40 LPM HIC, from 24 bar (348 psi) to 5 bar (73 psi) at 40 LPM (10.6 GPM), while reducing the overall HIC size by 30 percent. The pressure drop for the 80 LPM is equivalent to the previous design, but comes in a more compact build with an overall reduction equaling 60 percent. The RFDE-40 and RFDE-80 come in both the PRV (open circuit gear system) and 000 (variable piston pump system) designs, supporting the most common reversing and modulating fan drive solutions in the industry. For commonization of design, the 40 and 80 solutions are the same size but are optimized for their respective max flow capacity.

"As a result of the demands of continued emission regulations, Comatrol is focused on meeting the needs of our customers who are looking for products that assist in improving overall machine efficiency," said Mark Mahony, Product Application Engineer (US). "Our updated family of fan drive HICs allows the engine to run more efficiently thus improving fuel economy and reducing emissions. Comatrol will continue to help customers meet emission regulations while addressing productivity and cost requirements."

About Comatrol

Comatrol, a member of the Sauer‐Danfoss (NYSE: SHS) Group, is the most responsive source for Cartridge Valves and Hydraulic Integrated Circuit (HIC) solution needs. Comatrol works with customers and suppliers around the world to manufacture high performance machine control solutions for mobile, on‐highway, energy, and industrial equipment markets. Additional information is available at www.comatrol.com, www.comatrol.cn (Chinese) or follow us on Facebook(TM) at http://www.facebook.com/comatrol.

More from Software