Introducing the Fluke® CNX 3000 Wireless Multimeter Systems from Davis Instruments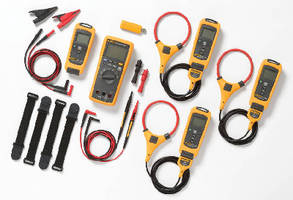 Wireless electrical testing system increases productivity with simultaneous multiple measurements



Vernon Hills, Ill., —New wireless technology from Fluke enables technicians to test multiple parts of their system at the same time while staying a safe distance from active electrical wiring. The Fluke® CNX 3000 Wireless Multimeter System from Davis Instruments takes concurrent readings from up to three wireless modules (such as AC voltage, AC current, and temperature) up to 60 feet away. This eliminates the need to take individual measurements that require repeating the start-up sequence each time.



As a wireless multimeter (multi meter) system, it significantly enhances time management and safety. Readings can be taken from locations separate from the on/off system console or panel. Users can view up to 10 live readings with the PC adapter and adjust various settings while getting real-time feedback from testing units. They can also log up to 65,000 sets of min/max/avg readings with a time stamp. Optional measurement modules complete the system.



To learn more about how the Fluke® CNX 3000 Wireless Multimeter System boosts efficiency, go to www.davis.com/19554 or call 800-358-5525.



Davis Instruments has been one of the world's leading sources of test, measurement, control, and calibration instruments since 1912. With expanding capabilities in industrial spheres such as power and utilities, petrochemicals, aerospace and electronics production, field services, and construction, the organization continues to respond to technological demands. Based in Vernon Hills, Illinois, Davis Instruments is dedicated to providing customers with excellent service and product applications expertise. For more information, contact Davis Instruments, 625 East Bunker Court, Vernon Hills, IL 60061. In the U.S.A. or Canada, call 800-358-5525. International customers, call 847-327-2000. Visit us at www.davis.com.









More from Software