Interventional Catheter Assemblies offer fine wire terminations.
Press Release Summary: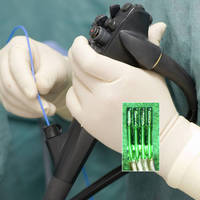 Custom, micro-miniature interventional catheter assemblies, featuring fine wire, direct-to-board terminations down to 0.175 mm pitch, enable medical device companies seeking less invasive and more stable solutions to reduce size of their catheterization products. Manufacturing process includes performance-related control over VP90™ ePTFE dielectric and micro-coaxial cable extrusion up to 52 AWG. Manufacturing covers everything from conceptual design through production.
---
Original Press Release:

Custom Interventional Catheter Assemblies Offer Fine Wire Terminations to 0.175 mm



Scottsdale, AZ — High Speed Interconnects ("HSI"), a full service extruder and assembler of high performance coaxial cable has recently announced the capability to create custom, micro-miniature interventional catheter assemblies with fine wire, direct-to-board terminations down to 0.175 mm pitch.



This enhanced capability provides medical device companies seeking less invasive and more stable solutions the opportunity to further reduce the size of their catheterization products. With appreciation for the complexities of thin wall thicknesses and tube diameters, HSI has developed proprietary extrusion and termination capabilities to produce disposable and reusable interventional catheter assemblies, which are of the highest standards for patient care.



HSI's custom interventional catheter capabilities also include performance-related control over their proprietary VP90™ ePTFE dielectric, and micro-coaxial cable extrusion up to 52AWG. From conceptual New Product Introduction (NPI) design and first article qualification through production, HSI adopts Design For Manufacturing & Assembly (DFMA) practices which yields typical lead times of less than one week and allows for small batch runs.



HSI adheres to FDA compliant GMP practices and is capable of extruding and terminating a wide variety of catheter-based delivery systems. HSI's certifications include AS9100 revision C, ISO9001, EN13485 (pending), IPC 610/620, ITAR Registration. HSI is factory-certified in North America to properly terminate to Hirose, IPEX, and JAE micro-coaxial connectors.



For more details, or to get a quotation on your next interventional catheter assembly, visit http://www.highspeedint.com



About High Speed Interconnects

High Speed Interconnects (HSI) is a designer, extruder, and manufacturer of custom micro-coaxial and coaxial cable assemblies. Headquartered in Scottsdale, AZ, and with facilities in Portland, OR, HSI is one of a few manufacturers extruding its own high-performance coaxial cable and is the exclusive cable assembly manufacturer using a new expanded PTFE (ePTFE) called VP90™. HSI's low-loss, low-capacitance, phase-stable, coaxial interconnect solutions are available in a variety of cable constructions. These constructions include circular and micro-coaxial cable assemblies down to 0.3 mm pitch and fine wire, direct-to-board assemblies down to 0.175 mm. For more information, visit www.highspeedint.com.



Company Contact

Antonio De La Rosa

High Speed Interconnects

antoniod@highspeedint.com

480-998-2540



Agency Contact

Molly Heyward

Strand Marketing

mheyward@strandmarketing.com

978-463-0780

Related