InterTech Development Company UDI System Announced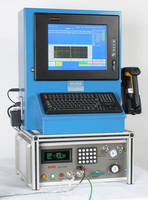 Medical device manufacturers seeking to comply with the FDA Amendments Act of 2007 and to enhance patient safety with complete part traceability, can now use the InterTech Development Unique Device Identifier (UDI) System, which integrates bar coding, scan and software tracking of each part and batch, including all leak test, functional test and lifecycle test data related to each component (http://www.intertechdevelopment.com/instrumentation_detail.cgi?id_num=143).

The InterTech Development UDI System not only provides full traceability in the event of product recalls, but also provides data for process optimization to streamline production, and storage of all test data at each productions stage for SPC (Statistical Process Control) data that underlies most quality assurance systems and full ISO 13485:2003 compliance.

For added traceability, a laser marking system can be integrated with the bar code label system.

Jacques Hoffmann, President of InterTech Development Company, comments, "InterTech's turnkey test solutions have always emphasized software integration to monitor all stages of testing and archive all test data. Above and beyond the UDI system finalized by the FDA for minimum parts traceability requirements, the InterTech UDI system will enable device manufacturers to glean from constantly archiving test data the process improvements they need to make to improve yield, minimize defects, and ensuring that products jeopardizing patient safety are never released to market."

For more information on the InterTech UDI system or other test technology for the medical device industry please contact Gerald Sim, gsim@intertechdevelopment.com,: +847 679 3377, fax: +847 679 3391.

InterTech Development Company (www.intertechdevelopment.com) is a world leader in test-centric assembly and test specializing in automated leak and functional testing with 7 patented mass flow and hydraulic technologies, as well as, helium mass spectrometry (ISO-17025 International Standards for Quality Management). InterTech Development Company-engineered solutions are used by hundreds of manufacturers worldwide. InterTech Development Company's worldwide support organization maintains offices in North America, Asia, and Europe.

For all editorial inquiries, please contact Amy Munice, ALM Communications, +773 - 862 - 6800, skype-ALMCommunications, alm@almcommunications.com.

More from Sensors, Monitors & Transducers