Interscan Analyzers Are Now Being Used in Chinese Drywall Related Gas Detection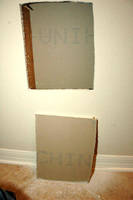 Interscan Corporation, a leading manufacturer of toxic gas detection instrumentation and related software, is working with key remediation contractors and government agencies in the ongoing effort to deal with a problem some are calling "the greatest environmental disaster in American history," in that more than 100,000 homes may be affected. Many accounts hold that the tainted drywall was first imported into the US early in 2005, although reports are now circulating of tainted product dating back to 2001.

In June, 2008, the State of Florida's Department of Health received its first call from a homeowner regarding sulfur odors related to drywall. By December, 2008, the federal Consumer Product Safety Commission (CPSC) received its first drywall-related complaints, and became the lead federal agency on this matter.

There is no dispute that the tainted drywall will emit certain toxic and corrosive gases (hydrogen sulfide, carbonyl sulfide, and carbon disulfide), which can corrode wiring and HVAC components, and can be unhealthful - especially to sensitive individuals.

Interscan portable hydrogen sulfide analyzers are being used to confirm the presence of these gases (hydrogen sulfide is the most prominent sulfide compound present, and also serves as a marker for the other two). After remediation procedures are completed, the same analyzers are utilized to determine that the residence has indeed been fixed, and is safe for reoccupancy.

Grant McClure, Interscan's director of special projects, notes that, "Our analyzers are rugged and have excellent sensitivity. They're well-suited for this application. We are suggesting that the intermediate Minimal Risk Level (MRL) of 20 parts-per-billion be used as the reoccupancy standard."

Chlorine dioxide comes into the picture as a remediation agent. This chemical has the combined properties of both destroying the sulfides in the drywall and supporting structures, as well as killing the very bacteria - living in the drywall - that seem to be implicated in generating the sulfides.

Interscan portable analyzers can be used to set the proper remediation concentration for chlorine dioxide, and then - after the treatment - to determine that the chemical has been properly dispersed from the residence.

"Interscan is to proud to be involved in this important work," says McClure, "and we welcome inquiries from contractors and other interested parties."


More from Communication Systems & Equipment