Interna-Rail® Handrail Systems from Hollaender® Feature Sleek Architectural Finish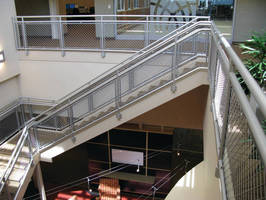 CINCINNATI, OH - The Interna-Rail handrail system from Hollaender Manufacturing is an in-line fitting based system designed to combine the clean look of welded rail with all the benefits of a mechanical system. Interna-Rail systems can be designed to meet any building code and are being used throughout the world in architectural, public works, and stadium applications.

Interna-Rail is ideal for any project that requires good looks, strength, durability and corrosion resistance. Fittings are manufactured from 6063-T6 aluminum alloy and pipe is a combination of 6005-T5 and 6063-T6 alloys. All Interna-Rail fittings and pipe can be supplied with either a 215-R1 (M12-C22-A41) anodized finish which provides additional resistance to damage, especially in harsh climates, or a powder coat finish that meets AAMA 2604 specifications for color and gloss retention. The systems are very non-corrosive and low maintenance.

Infill panels that meet IBC codes for dimension and strength can be either steel that has been treated with the DUOSHIELD 2 coat system of ecoat and powder coat, or tempered glass.

Interna-Rail systems are shipped in pre-fabricated sections of 10-24 feet and are easily installed without specialized labor. The system features a double tang set screw activated design which provides a virtually maintenance free system that is longer lasting than those which utilize adhesives and pop rivets.

About Hollaender Manufacturing

Hollaender is a manufacturer and marketer of aluminum structural pipe fittings, aluminum pipe, and infill panels, as well as final assemblies that use these components. These components are used in the design and building of handrail, guardrail and safety rail systems as well as a wide variety of unique modular pipe and fitting based structures for commercial, residential, public works and industrial applications, as well for retail store fixtures and other structural applications. Hollaender also offers consultation, design, and project management services.


More from Architectural & Civil Engineering Products