Interlocking Aluminum Slatwall System has heavy-duty design.
Press Release Summary: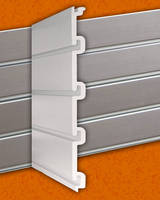 Comprised of extruded 8 ft long x 6 in. wide x 11/32 in. thick slats, Hercules Heavy Duty Aluminum Slatwall System offers 300 lb/ft² load bearing capacity. It is intended to interlock and be used in conjunction with traditional, standard-duty PVC slatwall. Integrated 3 in. on center groove spacings enable adaptability with preexisting interiors and use with all standard slatwall accessories/components, while knock down modular design accommodates permanent or temporary application needs.
---
Original Press Release:
Outwater Introduces its Hercules Heavy Duty Aluminum Slatwall System
Bogota, NJ (www.outwater.com) — In addition to its other numerous slatwall products and related accessories, Outwater [Outwater Plastics Industries, Inc. + Architectural Products by Outwater, LLC] now offers the Hercules Heavy Duty Aluminum Slatwall System, the first ever aluminum interlocking modular slatwall system.

Less than one third the weight yet many times stronger than conventional and cumbersome MDF Slatwall panels, Outwater's Hercules Heavy Duty Aluminum Slatwall System comprises extruded interlocking 8-ft. long by 6-in. wide by 11/32-in. thick UPS shippable lengths, which not only allow for lower transportation and delivery costs, because of its knock down modular design, it can be readily set up or broken down without any size constraints to easily suit permanent or temporary applications alike, such as in stores, trade show exhibits, garages, storage sheds, workshops, laundry rooms, closets and more.

Boasting an unprecedented load bearing capacity of 300 lbs. per sq. ft., Outwater's Hercules Heavy Duty Aluminum Slatwall System is intended to interlock and be used in conjunction with traditional standard duty PVC slatwall in tasks where extra strength and load bearing capacity are required without any degree of compromise.

Offered in paintable satin or mill finishes, Outwater's Hercules Heavy Duty Aluminum Slatwall System provides design flexibility and refinement, with integrated 3-in. on center groove spacings, which enable integral adaptability with preexisting interiors and use with all standard slatwall accessories and components.

Engineered to combine beauty and versatility with strength and durability, Outwater's Hercules Heavy Duty Aluminum Slatwall System is offered along with a vast selection of super duty positive locking action slatwall accessories to suit a wide array of organizational requirements.

For further product information, please click the enclosed links:

Link #1: The Hercules Heavy Duty Aluminum Slatwall System

http://www.outwatercatalogs.com/lg_display.cfm/catalog/Master_Catalog_Vol_42?useSearchForm=single&page=111

Link #2: YouTube: Outwater's Complementary Great Wall PVC Slatwall Organization System

http://www.youtube.com/watch?v=RCIdaYyKAo8

About Outwater [Outwater Plastics Industries, Inc. + Architectural Products by Outwater, LLC]: Outwater can be contacted Toll Free at 1-800-631-8375 (For sales and product information in the USA & Canada) / 1-201-498-8750 (For sales and product information outside of the USA & Canada) or viewed online at www.outwater.com

From the vendor of a single product in August 1972, Outwater, with sales and distribution facilities in New Jersey and Arizona, is recognized today as a well established international manufacturer and stocking distributor of more than 65,000 standard and innovative component products required by woodworkers, cabinet and furniture manufacturers, builders, remodelers, designers, architects, point-of-purchase and display fixturing manufacturers, OEM's, as well as a diversified range of other commercial and retail end users.

Major Product Categories include Plastic & Aluminum Extrusions; Lighting and Lighting Accessories; Furniture, Cabinet & Store Fixture Components; Knobs & Pulls; Casters; Fasteners; Laminates; The FOGA Exhibit & Display Fastening System; The Klem Connector; Literature Displays; Slatwall; Sign Holders; P.O.P Components; Display Motors & Turntables; Pedestals; Injection Molded Parts; Brass Tubing & Fittings; Surfacing Materials; Interior & Exterior Polymer & Wood Architectural Mouldings & Millwork; ORAC DECOR and DEM Architectural Mouldings & Millwork; Columns & Capitals; Balustrading; Wrought Iron Components; Decorative Stamped Steel & Polymer Ceiling Panels; Wainscoting; Wall Coverings; Fireplace Surrounds; Plastic "Glass" Block; Period & Contemporary Hardware; Kitchen & Bath Accessories; Kitchen & Bath Cabinetry and Vanities… and so much more!

Contact:
Joey Shimm, Director of Marketing
Outwater Plastics Industries, Inc. + Architectural Products by Outwater, LLC
(201) 498-8750
More from Fluid & Gas Flow Equipment