Vision and Imaging Sensors / Detectors
Interline Transfer CCD Image Sensor features 47 MP resolution.
Press Release Summary: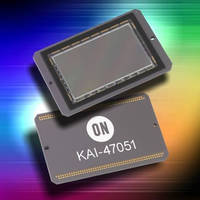 While aligning with high-resolution inspection demands for smartphones, tablets, monitors, and TVs, KAI-47051 retains CCD-level image uniformity and global shutter architecture required for such applications as industrial inspection, mapping, and aerial surveillance. Reduced-noise amplifier minimizes read noise and increases dynamic range to 66 dB, while 16-output architecture enables max frame rate of 7 fpm. Monochrome, Bayer Color, and Sparse Color configurations are available.
---
Original Press Release:

ON Semiconductor Launches Highest Resolution Interline Transfer CCD Image Sensor for Demanding Industrial Imaging Applications



New 47 megapixel device targets applications such as industrial inspection and aerial surveillance



PHOENIX, AZ – ON Semiconductor (Nasdaq: ON), driving energy efficient innovations, is enabling new levels of performance and efficiency in critical industrial inspection and mapping applications with the KAI-47051 image sensor, the world's highest resolution Interline Transfer CCD device.



The 47 megapixel (MP) KAI-47051 image sensor increases the resolution available for applications such as end-of-line flat panel inspection and aerial mapping by more than 50% compared to the KAI-29050 image sensor widely used in these applications today. This is achieved while retaining the CCD-level image uniformity and global shutter architecture those applications require. The new device was designed specifically to align with the growing inspection demand for higher resolution smartphones, tablets, computer monitors, and televisions; and to improve image quality and overall efficiency in surveillance applications such as aerial mapping.



The KAI-47051 builds on the success of the existing 29 MP KAI-29050 image sensor, which is widely used today in these same applications. In addition to providing higher resolution through a larger optical format, the KAI-47051 incorporates a reduced-noise amplifier that lowers read noise by 15% compared to the existing device, increasing dynamic range to 66 decibels (dB). A 16-output architecture enables a maximum frame rate of seven frames per second; almost double that of the existing, lower resolution device. Customers moving to the new KAI-47051 can enjoy these performance improvements without sacrificing the image quality or electronic shutter performance inherent in the CCD design.



"These applications continue to require the advanced imaging performance that today is only available from CCD technology," said Herb Erhardt, Vice President and GM, Industrial and Security Division, Image Sensor Group at ON Semiconductor. "With a broad base of both CCD and CMOS technologies, we are able to match the most appropriate technologies with the needs of different applications, uniquely positioning ON Semiconductor to serve the demanding needs of the industrial imaging market."



The KAI-47051 is available in a RoHS-compliant PGA-201 package in Monochrome, Bayer Color, and Sparse Color configurations.



Follow @onsemi on Twitter: www.twitter.com/onsemi



About ON Semiconductor

ON Semiconductor (Nasdaq: ON) is driving energy efficient innovations, empowering customers to reduce global energy use. The company is a leading supplier of semiconductor-based solutions, offering a comprehensive portfolio of energy efficient power and signal management, logic, standard and custom devices. The company's products help engineers solve their unique design challenges in automotive, communications, computing, consumer, industrial, medical and military/aerospace applications. ON Semiconductor operates a responsive, reliable, world-class supply chain and quality program, and a network of manufacturing facilities, sales offices and design centers in key markets throughout North America, Europe, and the Asia Pacific regions. For more information, visit http://www.onsemi.com.



ON Semiconductor and the ON Semiconductor logo are registered trademarks of Semiconductor Components Industries, LLC. All other brand and product names appearing in this document are registered trademarks or trademarks of their respective holders. Although the company references its Web site in this news release, such information on the Web site is not to be incorporated herein.



Contacts

Veronika Holscher

Media Relations

ON Semiconductor

(408) 660-2688

Veronika.Holscher@onsemi.com



Parag Agarwal  

Vice President Investor Relations

ON Semiconductor

602 244-3437

Parag.Agarwal@onsemi.com



Issued by:

Hannah Hines, Pinnacle Marketing Communications Ltd

Tel: + 44 (0) 20 8429 6547

Email: h.hines@pinnaclemarcom.com

Web: http://www.pinnacle-marketing.com

Related