Interior Maintenance Company Explains How to Improve Your Indoor Air Quality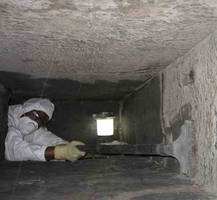 What is the quality of your air? If you are a building or facility manager, we can guarantee that this hot-button issue has come up at least once in a meeting or around the water cooler. And why not? Many employees may spend almost all of their day inside. Especially in the summer months, air conditioning is constantly running, forcing those to breathe in indoor air (which can be contaminated with chemicals, particulates, bacteria, and viruses if the systems are not properly cleaned). Due to the poor economy, many building managers have deferred maintenance programs, which are essential to the quality of your air.

Here are some ways to get workplace back on track and improve your indoor air quality:

1. Set up a maintenance program, which includes scheduled filter changes and, most importantly, scheduled coil and air handling unit cleanings.

2. Inspect your HVAC systems on a regular basis. When performing visual inspections, as NADCA points out on its website www.nadca.com/en, if you see dust or debris, then the system is not properly cleaned.

3. According to NADCA, duct cleaning isn't always a finite solution. Once a system has been cleaned, determine that it is also operating properly. Make any replacements you deem necessary.

4. Practice good facility hygiene (think in terms of facility cleaning and dusting at regular intervals).

5. Open the windows! Make sure your indoor facilities have some fresh air to breathe in.

Overall, it is necessary to make indoor air quality a priority. Use these tips or to see what services we can offer you, please visit our website www.imc.cc or call 1-800-220-6547 for more information.


More from Adhesives & Sealants