Interior LED Lamps feature thermal design that dissipates heat.
Press Release Summary: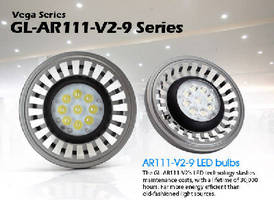 Offering luminous efficacy up to 86 lm/W, 12.5 W GL-AR111-V2-12 Vega Series provides 800 lm warm white beam or 1,080 lm cool white beam. Units are designed as replacements for traditional 75 W AR111 halogen lamps. Models with built-in drivers are compatible with traditional 12 Vac electronic transformers. Providing 28° beam, RoHS-compliant lamps operate for 30,000 hours, making them suitable for spot, architectural, residential, commercial, retail, accent, hallway, and cabinet lighting.
---
Original Press Release:

GlacialLight Announces the New 12.5W Vega Series Interior LED lamps - GL-AR111-V2-12



- Stylish LED Lamps with Patented Thermal Design for Reduced Energy Consumption -



Taipei, Taiwan – GlacialLight, a division of the Taiwanese technology manufacturer, GlacialTech Inc., has launched the new stylish GL-AR111-V2-12 Vega Series interior LED lamps with patented thermal design – helping to boost heat dissipation. Following the 9W GL-AR111-V2-9 Vega Series, these 12.5W lamps are the second addition to the cost-effective and environmentally-friendly Vega Series LED lamps.



These 12.5W GL-AR111-V2-12 LED lamps offer a luminous efficacy of up to 86 lumens per watt and have 80% lower energy usage when compared to traditional lamps. The 12.5W lamps have a stronger luminous flux than that of the 9W Vega Series lamps. Warm white beam has been increased from 640lm to 800lm and cool white beam from 860lm to 1080lm.



These 12.5W Vega Series LED lamps have been designed as replacements for traditional 75W AR111 halogen lamps. The built-in drivers of GL-AR111-V2-12-WW/CW make the lamps compatible with traditional 12V AC electronic transformers.



With the bundled drivers, GL-AR111-V2AN-12/V2AD-12 can also be used in similar applications to traditional 75W AR111 halogen lamps. These lamps are particularly well-suited for new construction fixture installments.



Each GL-AR111-V2-12 lamp provides illumination for all indoor lighting applications with a 28° beam. Typical applications include spot lighting, architectural lighting, residential lighting, commercial lighting, retail lighting, accent lighting, hallway lighting and cabinet lighting.



The main features of these Vega Series lamps include:

• GL-AR111-V2-12 accepts an input voltage of 12V AC/DC.

• GL-AR111-V2AN-12 accepts a wider range of input voltage (100-240V AC).

• GL-AR111-V2ADL-12 accepts an input voltage of 100-120V AC and is TRIAC dimmable.

• GL-AR111-V2ADH-12 accepts an input voltage of 200-240V AC and is TRIAC dimmable.



The patented thermal design of all the lamps allows heat to dissipate more quickly. However, GL-AR111-V2-12-WW/CW stand apart from the rest of the lamps. GL-AR111-V2-12-WW/CW include a silicone glue compound, which further boosts heat dissipation from the built-in driver in the interior of the lamp to the surface, reducing inside heat. The purpose of this is to increase driver lifespan. This connected to the energy efficiency of the Vega Series LED lamps means reduced cooling and air conditioning related costs in commercial and residential spaces.



The whole GL-AR111-V2-12 series is supported with full two year warranties. GlacialLight is very happy to begin offering these new products to its existing and potential customers and business partners worldwide.



Specifications

AR111-V2-12 / AR111-V2AN-12 (non-Dimmable)


| | | | | |
| --- | --- | --- | --- | --- |
| Type |  GL-AR111-V2-12- WW | GL-AR111-V2-12- CW | GL-AR111-V2AN-12- WW | GL-AR111-V2AN-12- CW |
| Energy Used |   | 12.5W |   |   |
| Rated Life |   | 30,000 Hours |   |   |
| Input Voltage |   | 12V AC/DC 100-240V AC |   |   |
| Power Factor (PF) |   | n/a 0.88@120V AC, 0.80@240V AC |   |   |
| CCT (Color) | 2700K | 5700K | 2700K | 5700K |
| Luminous Flux (lm) | 800lm | 1080lm | 800lm | 1080lm |
| Luminous Efficacy | 64lm/W | 86lm/W | 64lm/W | 86lm/W |
| CRI (Ra) | 80 | 70 | 80 | 70 |
| Base |   | G53 |   |   |
| Beam Angle |   | 28° |   |   |
| Dimension |   | Ø 111 x 52.7mm |   |   |
| IP Rating |   | IP20 |   |   |
| Operation Temperature |   | -20°C ~ +40°C |   |   |
| Bundled Driver | No driver |   | GP-HS10P-48C1 |   |
| Net Weight |   | 145g 200g (with driver) |   |   |
| Package |   | 36 Box / Carton |   |   |





AR111-V2AD-12 (AC-TRIAC Dimmable)




| | | | | |
| --- | --- | --- | --- | --- |
| Type | GL-AR111-V2ADL – 12-WW |  GL-AR111-V2ADL- 12-CW | GL-AR111-V2ADH -12-WW | GL-AR111-V2ADH- 12-CW |
| Energy Used |   | 12.5W |   |   |
| Rated Life |   | 30,000 Hours |   |   |
| Input Voltage |   | 100-120V AC 200-240V AC |   |   |
| Power Factor (PF) |   | 0.92@120V AC, 0.8@240V AC |   |   |
| CCT (Color) | 2700K | 5700K | 2700K | 5700K |
| Luminous Flux (lm) | 800lm | 1080lm | 800lm | 1080lm |
| Luminous Efficacy | 64lm/W | 86lm/W | 64lm/W | 86lm/W |
| CRI (Ra) | 80 | 70 | 80 | 70 |
| Base |   | G53 |   |   |
| Beam Angle |   | 28° |   |   |
| Dimension |   | Ø 111 x 52.7mm |   |   |
| IP Rating |   | IP20 |   |   |
| Operation Temperature |   | -20°C ~ +40°C |   |   |
| Bundled Driver |   |   | GP-TS10P-42L | GP-TS10P-42H |
| Net Weight |   | 200g (with driver) |   |   |
| Package |   | 36 Box / Carton |   |   |

 

Features of the GL-AR111-V2-12 lamp

• Attractive, patented thermal design

• An easy replacement for older AR111/G53 halogen lamps

• Bright, power saving, eco-friendly LEDs

• Luminous Efficacy of up to 86 lumens/watt

• Efficiency and patented thermal design reduces heat

• Very long 30,000 hour life

• RoHS compliant, No Mercury, No IR or UV light radiation

• Extremely durable and robust

• 2 year manufacturer's warranty



Read more about this new product please visit at GlacialLight's website:

http://www.glaciallight.com/products/AR111-V2.htm



Heat dissipation design patent:

http://www.glaciallight.com/about/images/patents_M428318.JPG



Excellent LED lighting products you can trust

The design of LED lighting products is based on three core technologies including: electrical design (LED drivers), mechanical design (cooling devices), and optical design (lamp holders), respectively performed by GlacialPower, GlacialTech, and GlacialLight in the GlacialTech family. With these three core technologies in hand, GlacialTech has integrated all the resources required for exceptional designs, and is able to manufacture excellent LED lighting products that you can trust.



About GlacialLight

GlacialTech Inc., is a diversified provider of cooling, power supply, and PC enclosure solutions for consumer and industrial applications. Having established strong relationships with LED semiconductor Co.'s, thermal, SMPS and mechanism technology leaders worldwide, GlacialTech leverages world-class engineering, efficient manufacturing and highest-quality materials to provide high brightness, low power LED lighting solutions for indoor, outdoor and other customized applications under the GlacialLight brand. Please visit the company homepage at www.GlacialLight.com.



GlacialLight Press Contacts

Jean-Pierre Skalamera

Director

Email: jp@GlobalPR.com.tw

MSN: GPR-JP@hotmail.com

Skype: GPR-JP

http://www.GlobalPR.com.tw

Tel: +886-(0)2-2897-3237 (Main)

Tel: +14082151533 (USA)

More from Construction Equipment and Supplies