Interferometer suits large aperture form metrology.
Press Release Summary: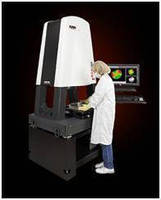 Able to characterize flat surfaces up to 12 in. in diameter, Verifire™ XL Fizeau Interferometer is suitable for measuring large plano surfaces, such as mirrors, semiconductor wafers, or optical windows. Instrument features integrated reference optic with proprietary full area calibration, enabling metrology to better than 30 nm PV over full 300 mm aperture. Verifire™ XL comes with integrated TMC vibration isolation platform and ZYGO's patented QPSI™ vibration-robust acquisition technology.
---
Original Press Release:

Zygo Releases Verfire(TM) Xl Interferometer for Large Aperture Form Metrology



Middlefield CT – Zygo Corporation announces the release of the Verifire™ XL high-precision Fizeau interferometer for the simple and accurate characterization of flat surfaces up to 12 inches (300 mm) in diameter. Designed for measuring large plano surfaces, such as mirrors, semiconductor wafers, or optical windows, the Verifire XL is a turn-key solution incorporating staging, accessories and production-oriented technology.



"The downward-looking orientation of the Verifire XL system with a heavy-duty part stage enables quick and easy metrology for a wide range of test parts," according to Tyler Steele, Laser Interferometer Product Manager.  "The instrument features an integrated reference optic with ZYGO's proprietary full area calibration enabling metrology to better than 30nm PV over the full 300mm aperture."



The Verifire XL system comes with an integrated TMC vibration isolation platform and ZYGO's patented QPSI™ vibration-robust acquisition technology. Those features permit precise, reliable metrology, even in production environments where vibration can degrade measurement data using other acquisition techniques.



Measurement and analysis of surface topography on the Verifire XL interferometer is handled by ZYGO's Mx™ metrology software, the industry's most powerful data analysis and visualization platform. In addition to QPSI acquisition, the Mx software also includes ZYGO's new Smart Averaging feature, which automatically provides the best possible measurement in the shortest time.



Verifire XL interferometer is an application-centric model of ZYGO's industry-leading Verifire line of phase-shifting laser Fizeau interferometers.  The system shares their robust and stable design, a long-life high-powered laser source and high-speed, high-resolution camera for unmatched data and instrument reliability in the most demanding applications. The Verifire XL interferometer is now available worldwide for purchase.



Zygo Corporation, a unit of AMETEK Ultra Precision Technologies Division, is a leading provider of optical metrology solutions, high-precision optics, and optical assemblies used in a wide range of scientific, industrial, and medical applications.



AMETEK, Inc. is a leading global manufacturer of electronic instruments and electromechanical devices with 2014 annual sales of $4.0 billion. For more information, contact Zygo, 21 Laurel Brook Rd., Middlefield, CT 06455-1291 USA. Telephone: +1-860-347-8506. E-mail: inquire@zygo.com.



Contact:

Tyler Steele

(860) 347-8506

E-mail: tyler.g.steele@ametek.com

 

More from Controls & Controllers