Interface Masters Announces Enterprise Security Design Wins for The New Cost-Effective Tahoe 8722 CAVIUM® OCTEON® III Based Networking Appliance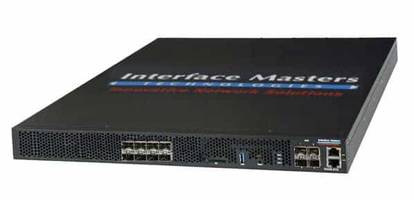 Cost-Effective Tahoe 8722 1U Networking Appliance
SAN JOSE, CA – March 30, 2021 – Interface Masters' family of Cavium 64-bit MIPS-based networking appliances are gaining market traction within the high-performance Software Defined Networking (SDN) and Network Function Virtualization (NFV) markets. The flexible appliance is also suitable for SSL/IPSec offload processing, Intrusion Prevention Systems (IPS), Unified Threat Management (UTM), Intrusion Detection Systems (IDS) and Data Loss Prevention (DLP) applications.
The Silicon Valley designed and manufactured Tahoe 8722 security appliance rounds out Interface Masters' broad portfolio of Cavium OCTEON III based appliances. The entry-level 8722 is based on Cavium's CN7870 (24-core 1800MHz) CPU and is capable of supporting 100Gbps+ security acceleration and up to 120 billion instructions per second. Complete certifications are standard including UL/CUL (CSA), CB: EN, FCC Class B radiated/conducted, CE EMC and EN55032.
"Data and network security are a non-negotiable cornerstone of any successful enterprise and we are pleased to validate the market's receptivity to our new Tahoe 8722", notes Ben Askarinam, Interface Masters' Founder and CEO. "This off-the-shelf device enables our OEM partners to rapidly deploy their software solutions using Interface Masters cost-effective hardware."
As with all Interface Masters appliances, the device includes out-of-the-box support for the Cavium Software Development Kit (SDK) and for Linux based multi-core MIPS processor environments. Support for Cavium SDK and additional built-in software and firmware enable rapid development and integration for next-generation networking products. Interface Masters Technologies provides continuous support and enhancement for the life of the product as new revisions of the operating system and patches are released. In addition, Interface Masters provides specialized engineering services to meet OEMs' customization requirements in weeks, rather than months.
Tahoe 8722 supports 12 x 10Gb SFP+ ports, dedicated management and console ports, dual-redundant hot-swap power supplies and four field-replaceable fans. Partial and full customization options available for both software and hardware.
Long Product Life Cycle
Interface Masters network appliances and switches benefit from a long-lasting product life cycle, which enables continuity through all phases of product rollouts and servicing.
Designed and Manufactured in the United States / About Us
For over 25 years, Interface Masters Technologies has provided custom and off-the-shelf innovative networking solutions to OEMs, Fortune 100, and startup companies. Headquartered in Silicon Valley, we proudly design and manufacture all products here. Based on MIPS, ARM, PowerPC, x86 processors, and switch fabrics up to 12.8T, Interface Masters appliance models enable OEMs to significantly reduce time-to-market. Our solutions are reliable, pre-tested, pre-integrated, long-life appliances that meet the most challenging networking requirements. Learn more: www.interfacemasters.com.
Media Contact:
Mark Wilson
Marketing Manager
[email protected]