Interconnects are available in sizes 8 and 12.
Press Release Summary: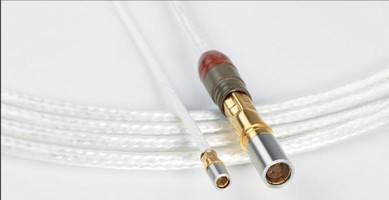 Designed for aerospace market, impedance-matched Quadrax interconnects provide signal fidelity and are optimized for high data rate requirements by controlling impedance and minimizing jitter. Products include integrated alignment feature that prevents bending of pins in field, which eliminates tolerance and positioning issues associated with scaling down military connectors to increase density.
---
Original Press Release:

Gore Introduces #8 and #12 Quadrax Interconnects for Improved Alignment and Performance



Elkton, MD (August 2006) - W. L. Gore & Associates has developed a range of impedance-matched size 8 and size 12 Quadrax interconnects, offering enhanced alignment features and optimized signal performance.

GORE(TM) Quadrax High Speed Assemblies enable customers to reduce both size and weight by up to 30% over comparable solutions. By controlling impedance and minimizing jitter, the assemblies provide superior signal fidelity and are optimized for today's higher data rate requirements.

"Gore's design integrates the highest electrical performance in a rugged, harsh environment mechanical package," says Jeff Fyfe, Global Advanced Interconnect Product Manager. "Due to the small size of the #8 and especially the #12 Quadrax contacts, Gore developed an integrated alignment feature to prevent bending pins in the field. This feature eliminates tolerance and positioning issues traditionally associated with scaling down military connectors to improve density."

The Quadrax interconnects are the latest in a series of high speed interconnects offered by Gore for the Aerospace market. Other GORE(TM) High Speed Interconnects include Fibre Channel Assemblies, MIL-STD-1760 Assemblies and Microwave/RF Assemblies.

Founded in 1958 as a wire and cable manufacturer, Gore has spanned from servicing the electronics industry to consumer, industrial, medical and surgical markets. Customers look to Gore for creative, high-performance products. The company's 50-year history of innovation extends from surgical implants to the first waterproof, breathable fabric, and from guitar strings to electronic cables used in space exploration. The Apollo Missions to the moon and the Mars Rover use Gore cables due to their performance and reliability.

Headquartered in Newark, Delaware, Gore operates more than 45 facilities, has over a billion dollars in annual sales, and employs over 7,000 associates worldwide. Gore is well known for its unique corporate culture and is repeatedly named among the "100 Best Companies to Work for in America."

For more information on Gore's products,
call W. L. Gore & Associates, Inc.,
800-445-4673, +1-302-292-5100, +49-91 44 6010;
or visit their Web site at www.gore.com

Please send leads to:
Technical Marketing Support
W. L. Gore & Associates, Inc.
402 Vieve's Way
Elkton, MD 21922
(800) 445-4673

More from Explosives, Armaments, and Weaponry