Intercom System provides hands-free or 2-way communication.
Press Release Summary: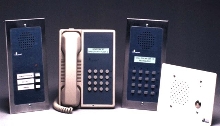 Spectrum(R) Digital Duplex Intercom System is suitable for small and large facilities requiring 2 to 9,072 stations internally or across wide geographical areas. Digital signal processor instantly adjusts loud speaking volume levels to compensate for acoustically difficult locations. Spectrum offers group-call and all-call capability, so user can communicate with select group or contact entire facility.
---
Original Press Release:
Spectrum(R) Digital Duplex Intercom System

Jeron's Spectrum® Series Security Intercom offers multiple choices and powerful solutions for facilities of all types and sizes. The Spectrum Digital Duplex Intercom System has the flexibility for efficient and effective hands-free or private two-way voice communication throughout an entire facility. For instant, high-speed connections and clear, crisp voice quality, the Spectrum family of products offer solutions for a wide variety of security applications including secured entryways, parking structures, elevators, stairwells, dock areas, storage rooms, etc.

Spectrum is the smart and economical choice for small and large
facilities requiring anywhere from 2 to 9,072 stations internally or across wide geographical areas. The digital signal processor instantly adjusts loud speaking volume levels to compensate for acoustically difficult locations. This master-to-master intercom is fully digital, providing immunity from interference and assuring natural, clear voice communications from anywhere in the room. The system is non-blocking, so all stations can be in use at the same time. With the administrative station there is never a busy signal, as the attendant can field dozens of calls and answer them in any order. This rack mounted system is easy to expand and maintain. For flexibility of installation, both station-to-station exchange and exchange-to-exchange interconnections can be made using either copper or fiber optic cabling. With built-in diagnostics, available redundant power sources and battery back up, Spectrum will provide reliable operation even if power is lost.

Spectrum offers group-call and all-call capability, so you can
communicate with a select group or contact an entire facility. The program music feature allows each person to select from several audio sources. The large, easy-to-read LCD display shows the name and number of each calling party, as well as those who left messages. Spectrum gives you seamless integration to graphic annunciators, PLC's, security software, two-way radios, CCTV, graphical user interfaces, in-house paging systems, remote-control systems and much more. The indoor and outdoor tamper-resistant single button station defies abuse, providing hands-free duplex communication in the most demanding environments.

Please feel free to contact us or visit our website for a full
description of our products: www.jeron.com

Jeron Electronic Systems, Inc.

1743-55 W. Rosehill Drive

Chicago, IL 60660

Phone: 773-275-1900

Fax: 773-275-0283

E-mail: sales@jeron.com

More from Software