Interchangeable Cartridges suit single-stage venturi pumps.
Press Release Summary: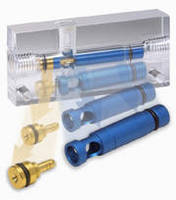 Interchangeable cartridge is removed from body of Mid-Series single-stage venturi pumps by pushing it out of air supply port and reinserting new one. Straight-thru design of nozzle and diffuser allows debris to pass through cartridge assembly without clogging, enabling maintenance-free pump with no moving parts. Cartridges are color-coded and grooved based on performance characteristics. They are manufactured with anodized aluminum and operate at 80 psi.
---
Original Press Release:

Interchangeable Cartridges Easily Transform Venturi Pump Performance in Minutes



Vaccon Company, Inc. of Medway, Massachusetts offers the "Mid-Series" vacuum pump, a line of single-stage venturi pumps with interchangeable cartridges that enable designers, engineers or machine operators to adjust pump performance to fit their specific application needs based on desired vacuum level, vacuum flow, evacuation speed and air consumption.

The interchangeable cartridge is easily removed from the pump body simply by pushing the cartridge out the air supply port and re-inserting a different cartridge into the same port. Swapping the entire cartridge or just the nozzle or diffuser can be performed in a matter of minutes, in the field, with minimal downtime, and without removing the pump body.

The straight-thru design of the nozzle and diffuser allows debris to pass through the cartridge assembly without clogging. This design results in a pump that has no moving parts, is maintenance free and does not require a filter.

For easy visual identification, the cartridges are color-coded and grooved based on performance characteristics. Standard cartridges are made of anodized aluminum and operate at 80 psi, however they can be modified to operate at lower or higher pressure ranges.

The Mid-Series vacuum pumps are available in 3 standard body sizes and can utilize any combination of the eight cartridges. Miniature venturi cartridges are available.

For More Information: Vaccon Company, Inc., 9 Industrial Park Road, Medway, MA 02053, Contact: Pat Kellogg, Telephone: (508) 359-7200, Fax: (508) 359-0177, Email: info@vaccon.com, Website: www.vaccon.com.

Product link for Mid Series Interchangeable Cartridges: www.vaccon.com/venturi-vacuum-pumps-modular.aspx

Related