Intensifier Pump supports medium-power waterjet cutting systems.
Press Release Summary: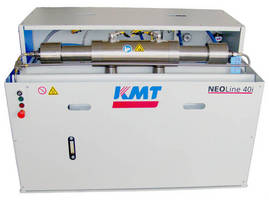 Supplied with or without electrical panel and booster, NEOLINE can be incorporated into machines built by water jet cutting and profiling system OEMs. Modular, CE-marked, 40 hp unit can supply one waterjet nozzle up to 0.30 mm dia or two 0.23 mm dia nozzles. Features include stainless steel topworks, 1 L accumulator, heat exchanger, and safety dump valve. Waterjet can be pure and also supports addition of garnet abrasive.
---
Original Press Release:

Water Jet Cutting System Combines High Quality, Medium Power and Low Cost



The largest producer of intensifier pump systems for water jet cutting, KMT, has introduced a new, 40 HP / 3,800 bar, top quality product at an entry-level price, despite manufacturing the equipment at its world class factory in the USA.

Called NEOLINE, the CE-marked unit is incorporated into machines built by water jet cutting and profiling system OEMs (original equipment manufacturers) and costs just two thirds of a 50 HP unit. It is supplied with or without an electrical panel and booster, making it suitable for both new and experienced machine builders.

The pump's power positions it in the medium range, allowing it to supply one water jet nozzle of up to 0.30 mm diameter or two 0.23 mm nozzles. It is ideally suited to single-head cutting of metals, where a 30 HP pump could struggle and a 50 HP unit might be unnecessarily powerful. Likewise, the 40 HP pump is suitable for processing softer materials on a twin-head machine. The water jet can be either pure or with garnet abrasive added.

Sceptics might say that the low price indicates that KMT must have cut corners with NEOLINE, but Peter Longman, the company's manager for the UK and Irish markets, contends that this is not the case. Economies of scale in production have allowed the high performance-to-price ratio to be achieved. To this end, the company has invested heavily in new plant and processes to maximise production efficiency at its Baxter Springs factory in Kansas.

Mr Longman says that, in a fast-developing, competitive, global market place, NEOLINE is part of KMT's two-pronged growth plan. One is to add value to its mid-range products while reducing their cost, as in this case. The other is to extend the frontiers of water jet technology by developing a 7,000 bar pump for even more efficient cutting in top-end applications.

The stainless steel topworks of NEOLINE is of the same quality as that on higher specification KMT pumps. A one-litre accumulator maintains output pressure from the intensifier to ensure smooth flow of water to the nozzle(s), leading to a high quality of cut and promoting longevity of machine parts.

Included in the KMT package are a heat exchanger to cool the hydraulic oil and water, and a safety dump valve on the pump to relieve system pressure in the case of shutdown. Modular design allows quick and easy maintenance as well as rapid replacement of individual wear parts when the need arises.

Mr Longman concluded, "Part of KMT's strategy in developing the NEOLINE pump stems from a recognition that water jet cutting is becoming increasingly popular as a way of profiling materials in one, two and three dimensions.

"The price of machines has been coming down in recent years, especially of single-head configurations. Their affordability is encouraging more and more manufacturers to invest in a profiling and prototyping machine to reduce costs and control lead times.

"To avoid the smoke, heat and noise associated with plasma cutting, people are turning towards water jet for environmental and safety reasons as well.

"Water jet can cut practically any material without causing a heat-affected zone, so microcracking does not occur, and it tackles thick materials that are beyond the scope of lasers, while avoiding the slowness of wire erosion."

Apart from in manufacturing, an area of increasing use is in demilitarisation, especially where there may be a risk of explosion. NATO, for instance, now stipulates robotic water jet cutting for decommissioning projects.

KMT provides service and support to its customers from centres located in 30 countries, a level of after-sales back-up that the company believes sets it apart from other water jet system suppliers.


More from Agricultural & Farming Products