Intelligrated to Showcase Next Generation of Robotic Mixed-load Order Fulfillment Solutions at PACK EXPO International 2014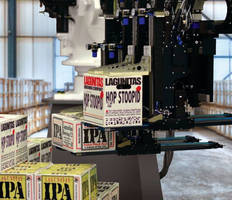 In-booth demonstration to feature complete mixed-load order fulfillment suite, including robotic palletizing and depalletizing, software and robotic integration



(CINCINNATI) - Intelligrated®, a leading North American-based automated material handling solutions provider, announces its show lineup for PACK EXPO International 2014, Nov. 2-5 at McCormick Place in Chicago. In booth #3536, Intelligrated will showcase its next generation of Alvey® robotic mixed-load order fulfillment solutions, delivering greater product handling flexibility for manufacturers and distributors to satisfy rising demand for partial pallet loads and retail-ready display pallets. The suite of Alvey robotic mixed-load order fulfillment solutions utilizes the latest advancements in robotic integration, configurable end-of-arm tooling, advanced software, controls and vision technology.



Intelligrated's live in-booth demonstration features a mixed-load robotic palletizing cell with specialized end-of-arm tooling capable of handling multiple case sizes in a single pick. The load passes through a stack-and-wrap solution to ensure pallet load stability before traveling on chain driven live roller pallet conveyor for pickup. An autonomous mobile robot then transports loads from the stack-and-wrap area to the depalletizing station where a vision-guided robot identifies the case and places it into a defined spot for resequencing back into the mixed-load palletizing cell, completing the demonstration loop. The solution allows manufacturers to automate virtually any mixed case requirement and replace outdated manual handling processes with the efficiency, accuracy and cost-saving benefits of automation.



"Intelligrated's latest generation of robotic mixed-load order fulfillment solutions provides the flexibility and reliability to satisfy rising demand for retail-ready mixed-load pallets," said Matt Wicks, vice president, product development, manufacturing systems. "This new technology integrates with software and other automated equipment, allowing operators to replace outdated manual processes with automation."



In addition to robotics, booth visitors can learn about automated high-speed palletizing for end-of-line manufacturing and automated storage and retrieval systems for buffering and sequencing. These technologies integrate with other Intelligrated automation components including software, conveyor, sortation and order picking systems to streamline operations in manufacturing, warehousing and distribution.



Booth attendees can also speak with Intelligrated's lifecycle support team for information on upgrades and modifications to existing equipment, system assessments and spare parts fulfillment.



Visit Intelligrated at PACK EXPO booth #3536. To schedule a meeting, email packexpo@intelligrated.com.  Multilingual booth support for Spanish and French is available.



For sales and marketing information, contact Karen Salles, senior marketing coordinator, Intelligrated, by phone at 513.881.5306 or by email at karen.salles@intelligrated.com.



For media information, contact Natalie Fioto, public relations, Koroberi, by phone at 919.945.0566 or by email at natalie@koroberi.com.



About Intelligrated



Intelligrated is a leading North American-based, single-source provider of intelligent automated material handling solutions that drive distribution and fulfillment productivity for retailers, manufacturers and logistics providers around the world. Through a broad portfolio of automation equipment, software, service and support, Intelligrated solutions optimize processes, increase efficiency and give businesses a competitive edge.



Intelligrated designs, manufactures, integrates and installs complete material handling automation solutions including conveyor systems, sortation systems, palletizers, robotics, automated storage and retrieval systems, and order picking technologies – all managed by advanced machine controls and software. Solutions include industry-leading Intelligrated-manufactured Alvey, RTS™ and IntelliSort® brand equipment and Knighted warehouse management (WMS), warehouse control (WCS) and labor management software.



Every project is backed by Intelligrated's 24X7 multilingual technical support and access to lifecycle service through a network of national, regional and local service centers. From concept to integration to lifecycle support, Intelligrated automation delivers distribution and fulfillment success.

Related