Intelligent RTU is suited for energy management.
Press Release Summary: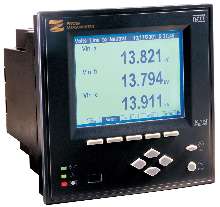 Option for ION 7500 energy meter converts device into intelligent, web-enabled RTU (remote terminal unit) for combined WAGES utilities metering. Dedicated RTU collects, scales, and logs readings from up to 32 connected meters or transducers and delivers information to one or more head-end systems through combination of integrated Ethernet, modem, or serial gateways. It also offers digital inputs, programmable setpoints, and modular programmability.
---
Original Press Release:

Power Measurement Introduces Intelligent RTU for Energy Management


VICTORIA BC -- September 30, 2003 -- Power Measurement, a leading provider of enterprise energy management systems, today introduced an option for its ION 7500 energy meter that converts the device into an intelligent, web-enabled RTU for combined "WAGES" utilities metering (water, air, gas, electricity, steam). The dedicated RTU (remote terminal unit) will automatically collect, scale and log readings from a large number of connected meters or transducers and deliver information to one or more head-end systems through a unique combination of integrated Ethernet, modem or serial gateways. The company states the RTU is ideal for commercial or industrial sub-metering, as well as transducer and equipment monitoring at utility substations.

"This new option represents an innovative advancement in RTU technology," said John Van Gorp, marketing manager for Power Measurement. "Energy and facility managers now have a much more cost-effective, all-in-one solution for metering the different kinds of utilities being consumed, and integrating the information efficiently into their energy management systems."

The RTU operates as a Modbus master communications device, allowing up to thirty-two meters or transducers to be connected to one of its serial ports. It will also accept pulse inputs from an additional eight devices through its onboard digital inputs, and can be optionally equipped with an expansion card that provides up to eight additional digital inputs, four analog inputs, and four analog outputs. The RTU provides programmable scaling, filtering and conversion of data and stores the information in extensive on-board, non-volatile memory. In turn, the device acts as a low-cost data concentrator, securely delivering all collected information over public or private networks, including the Internet, to Power Measurement's ION Enterprise(TM) energy management software or other information and automation systems. Information can be transferred using unique MeterM@il e-mail messaging, or accessed from the device's WebMeter web server using a standard browser. System interoperability is further supported by a choice of communications protocols including Modbus and DNP.

The RTU also shares a number of the ION 7500 meter's other advanced features. The optional high-visibility front panel LCD display can be used to locally view metered values from all inputs, graphically trend data, and view alarm status. Programmable setpoints can be used to alarm on out-of-limit conditions (e.g. peak demand), or to trigger one of the seven on-board relays. Based on the company's patented ION technology, the device comes pre-configured for standard applications, as well as offering unique modular programmability for extensive customization.

The ION 7500 with RTU option is available now from Power Measurement. For more information, contact Power Measurement toll free at 1-866-ION-SMART (US and Canada), call 1-250-652-7100, or visit www.pwrm.com.

More from Materials