Intelligent pH Meter has built-in microprocessor circuit.
Press Release Summary: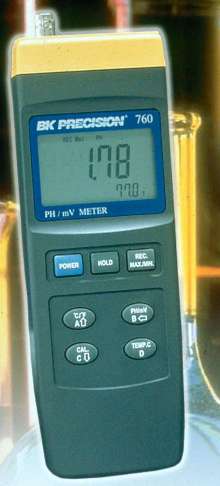 Model 760 hand-held, battery-powered, multifunction pH, mV/Temperature instrument is PC compatible for use in laboratories and field. With LCD display, unit measures pH from 0-14, mV from -1999 to 1999, and temperature compensation for pH measurement from 0-100°C. Available with various probes and software, plug and play unit offers Data Hold feature and can record maximum and minimum readings with recall.
---
Original Press Release:

B & K Precision® Introduces PC Compatible Intelligent pH Meter


YORBA LINDA, CA. . . .October 31, 2002 - B&K Precision Corporation today announced the addition of Model 760 Intelligent pH Meter to its expanding line of OSHA compatible environmental test and measurement instruments. Model 760 is a hand-held, battery-powered multifunction pH, mV/Temperature instrument that is PC compatible and can be used in the laboratory as well as in the field. Using 9VDC battery as the power source, the new portable meter has an easy-to-read LCD display and the ability to accurately measure pH (0 to 14 pH) mV (-1999mV to 1999mV) and Temperature compensation for pH measurement (0 to 100°C). Model 760 is an ideal tool for measuring the quality and characteristics of liquid.

o Model 760 is competitively priced at only $149.00 and is also available in two kit versions.

o Model 760Kit includes the pH Meter with pH probe priced at $175.00.

o Model 760DX Kit includes the pH probe, ATC probe, Dissolved Oxygen probe, Conductivity probe, W/RS-232 cable and software, and a protective carrying case and is priced at $595.00

Some of the unique features of the B+K Precision Model 760 include:

o pH/mV meter with "Plug & Play" function.
o pH range: 0 to 14 pH x 0.01 pH MV range: -1999 mV to 1999mV.
o Optional Probes
Conductivity Probe (760CP)
Dissolved Oxygen Probe (760DOP). After connecting a new probe, no new calibration procedures are required. "Plug & Play" function, ATC (Auto Temperature Compensation) probe is available for pH measurement.
o mV function for mV measurements.
o Wide manual temperature compensation adjustment
o Microprocessor circuit assures high accuracy and reliable performance.
o Large LCD, dual function display.
o Records Maximum and Minimum readings with recall.
o Data Hold.
o Auto shut off saves battery life.
o Powered by 9VDC battery.
o RS-232 PC serial interface.
o Front panel buttons control °C or °F conversion and pH calibration
o pH function with high input impedance avoids measuring errors.

Model 760 is ideal for a wide variety of applications including: Water Conditioning, Cooling Towers, Aquariums, Food Processing, Beverage Industry, Photography, Chemical Processing, Plating, Environmental Monitoring, Schools and Colleges."

Model 760 features Data Hold and can records maximum and minimum readings with recall. A built-in microprocessor circuit assures high accuracy and reliable performance. Pushing a button on the front panel can do converting from °C to °F. A standard 9VDC battery, with auto shut off to save battery life, provides the power for Model 760.

Model 760 can use the optional Model 760CP Conductivity probe and Model 760DOP Dissolved Oxygen probe to be a professional Conductivity meter or a Dissolved Oxygen meter. Model 760ATC probe is available for pH measurement. After connecting a new probe, no new calibration procedures are required because of the unit's "Plug & Play" function. Model 760 also features a mV function for mV measurements. Pushing a button on the front panel can easily operate wide manual temperature compensation adjustments.

The compact unit 7.7 x 2.7 x 1.2" (195 x 68 x 30mm) only weighs 0.55lbs. (250g), including battery. Available for immediate delivery, the Model 760 comes with B+K Precision Corporation's outstanding one-year warranty and user manual.

For over 50 years, B&K Precision Corporation has developed a reputation for excellence in the design and manufacture of high quality, reliable and cost-effective test and measurement products. Recognized for their price-performance value, ease of use, measurement accuracy and application flexibility, B&K Precision Corporation products are available worldwide through a global network of authorized distributors.

For additional information or the name and location of an authorized distributor near you, contact B&K Precision Corporation, 22820 Savi Ranch Parkway, Yorba Linda, California, 92887, Tel: (714) 921-9095, Fax: (714) 921-6422 or visit our Web site at www.bkprecision.com

More from Controls & Controllers