Intelligent Dry Storage delivers true J-STD performance.
Press Release Summary: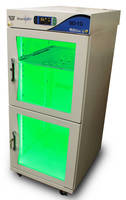 Ensuring humidity levels at 0.5%, SmartDRY™ comes in 10 and 30 ft³ models. Recovery time of < 3 min, enabled by active moisture monitoring and on-demand recovery/regeneration, ensures secure environment for constant accessibility to moisture sensitive components. Along with lighted interior for at-a-glance status verification, features include automatic SmartBAKE, mobile device-compatible networking capability, as well as automatic, self-monitored regeneration feature.
---
Original Press Release:

Preview SmartDRY(TM) Intelligent Dry Storage from ECD at APEX 2015



ECD, designer and manufacturer of the industry's leading thermal profiling technology, today announced a significant expansion to its product line with the launch of SmartDRY™.   The new innovation is an intelligent dry storage technology that goes beyond the conventional 'dry cabinet' and elevates the critical humidity-controlled storage of components to an affordable level of sophistication and ease-of-use generally only available at a higher price point.  SmartDRY delivers a rich feature set with the best price-performance ratio in the market.  The new technology will be shown at Booth 2832 during APEX 2015, which takes place from February 24 – 26 in San Diego, California.



"At ECD, we believe that robustness and comprehensive function should be designed in from the start," says ECD President, Todd Clifton.  "This philosophy is built in to SmartDRY, with advanced features incorporated as standard for an immediate performance advantage and an excellent return on investment."



Available in both 10 (283 liters) and 30 (850 liters) cubic foot models, SmartDRY goes a step beyond J-STD compliance to deliver true J-STD performance.  The unique design of SmartDRY ensures humidity levels at 0.5%, as compared to the typical 3% found with alternative dry storage cabinets.  Exceptionally fast recovery time (< 3 minutes) enabled by active moisture monitoring and on-demand recovery/regeneration -- as opposed to pre-set time-based cycling -- ensure the most secure environment for constant accessibility to moisture sensitive components.



Convenience and ease-of-use are at the foundation of SmartDRY.  A unique, ECD-designed lighted interior enables manufacturing personnel to see the status of the SmartDRY unit at-a-glance. An automatic SmartBAKE feature establishes bake time based on MSL level and component size, making tables or calculation unnecessary.  Convenient data access is enabled through SmartDRY's full networking capability that allows data viewing from any internet-enabled device. All of these features combine to make SmartDRY the most user-friendly dry storage technology on the market.



In addition to its performance capability, SmartDRY's construction is solid and its environmental friendliness is unmatched.  Quality-built by ECD in the United States of America, SmartDRY is engineered with premium materials and robust control software.  The automatic, self-monitored regeneration feature means that regeneration only occurs when needed, as opposed to being cycled at pre-set time intervals.  This allows manufacturers to realize lower power consumption rates and enjoy more efficient dry storage operation.



"SmartDRY, as the name implies, does the thinking for you," concludes Clifton.  "Electronic parts are a tremendous investment and protecting their value is critical to a healthy bottom line.  SmartDRY intelligently safeguards valuable electronic components, saving time, improving yield and maximizing profitability."



APEX visitors are invited to see SmartDRY at ECD Booth 2832.  Production-ready systems will be available beginning Summer 2015.



Except as otherwise noted, all marks used herewith are trademarks and/or registered trademarks of ECD and/or its affiliates in the US and elsewhere.



About ECD

Founded in 1964, ECD is recognized worldwide for its leadership and expertise in thermal monitoring and analysis technology and, more recently, for its development of intelligent dry storage systems.  Based in Milwaukie, Oregon, the company is a pioneer in the design, development, and manufacture of advanced in-transit thermal profiling systems and software used to monitor and analyze process temperatures in various industries including electronics, solar and baking, among others.  Well-known for its data-rich software expertise and robust hardware functionality, ECD leads the industry for innovative measurement and safeguarding systems.  For more information on ECD and its products, visit www.bakewatch.com -- www.ecd.com -- www.smartdry.com.



Company Contact:

Todd Clifton

President, ECD

(o) 503-659-6100 Ext. 238

todd.clifton@ecd.com



Media Contact:

Laura Sims

Sims Communications, Inc.

(o) 770-829-4757

(c) 404-661-0348

laura@simscomm.com

More from Electrical Equipment & Systems