Intelligent Dataloggers send HVAC/R data over BACnet.
Press Release Summary: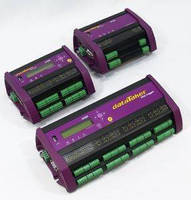 When connected to Modbus gateway, Series 3 dataTaker Intelligent Data Loggers can communicate over BACnet for such HVAC verification applications as energy efficiency and air quality monitoring. Universal analog input channels provide flexibility to monitor temperature, humidity, and current/voltage; store data to memory; and transfer it over Bacnet. These intelligent dataloggers also incorporate serial and Ethernet capabilities.
---
Original Press Release:

Datataker Data Loggers Send HVAC&R Data Over BACnet



Intelligent Monitoring Systems from CAS DataLoggers



CHESTERLAND OH – For HVAC&R data transfer and building system control over BACnet, CAS DataLoggers offers the Series 3 dataTaker Intelligent Data Loggers. When connected to a BACnet to Modbus gateway, dataTaker monitoring systems enable can communicate over BACnet for HVAC verification applications such as energy efficiency, air quality monitoring and more. Featuring universal analog input channels, dataTaker loggers have the flexibility to monitor Temperature, Humidity, Current/Voltage etc., store the data to memory, and transfer it over Bacnet. Give CAS DataLoggers a call at (800) 956-4437 today and learn how you can save time and money using these intelligent systems to automate your HVAC&R application.



BACnet (Building Automation and Control Networks) is an ISO standard communications protocol commonly used in HVAC&R control applications to automate systems in large facilities. BACnet is a useful standard enabling data exchange between building automation devices across many different functions. This includes AC control systems, boilers and heaters, lighting control, ventilation systems, fire alarms and more.



In addition to their Serial and Ethernet capabilities, dataTaker Data Loggers can communicate over BACnet when equipped with a BACnet to Modbus converter. Users can exchange data after interfacing the converter to the data logger and configuring settings. DataTaker records typical HVAC&R values including Temperature, Humidity, Current/Voltage, and more. After data is recorded, dataTaker makes the data available and transmits it over BACnet. These data loggers can also retrieve existing data on BACnet and record it onto internal memory.



Using dataTaker you can allow building devices to communicate over the network, for example to share data using Bacnet services like Read-Property and Write-Property. These Services act upon BACnet-defined Objects such as Analog Input, Analog Output, Binary Input, Binary Output, Program, Schedule, Command, and Device.



We have several cost-effective dataTaker models to suit the number of sensor channels your application needs:



DT80: The dataTaker DT80 Intelligent Data Logger has 5 to 15 Universal Analog Inputs, expandable up to 300 analog inputs.

DT82: The dataTaker DT82E Intelligent Environmental Data Logger is designed to handle environmental monitoring applications where robust functionality and low power consumption are required. They feature 2 to 6 Universal Analog Inputs.

DT85: The dataTaker DT85 Intelligent Data Logger provides 16 to 48 Universal Analog Inputs, expandable to up to 900 analog inputs.



Additionally, the dataTaker M series of built-in modem data loggers can send data and alarms remotely. Schedule your data to be automatically emailed to your inbox every day, week, month or other time interval. More sophisticated systems can make use of the automatic data delivery features to send logged data to an FTP server.



Request More Information



If you need information right away or prefer to speak with a person, call us and one of our Experienced Applications Engineers will be happy to talk with you. You can reach us at 1-800-956-4437 during our normal business hours Monday - Thursday from 8am to 5:00pm and Friday 8am to 4:30pm (EST).

More from Electrical Equipment & Systems